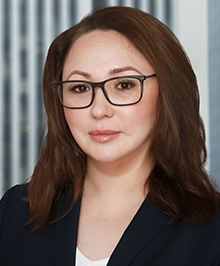 PRACTICES
Trusts and Estates
Tax
Private Client Services
EDUCATION
Lomonosov Moscow State University College of Law
New York Law School, LL.M. (Taxation)
BAR ADMISSIONS
Alexandra Domina
Associate
CONTACT INFORMATION

V-Card
Represented the executors of estates where the decedents owned substantial interests in entities that owned and operated commercial or residential real estate in various cities on the East Coast, including Manhattan, and substantial art collections, that had to be appraised for estate or gift tax purposes. In many cases, when the returns were audited by the IRS the reported values were either accepted without change or only nominally increased after negotiations with the tax authorities.

Represented the corporate or individual executors and trustees of litigated estates and trusts where formal accountings were filed in the Surrogate's Courts and approved by the Courts. In addition, many estate and trust accountings were approved outside of the Court.

Represented a co-executor of an estate who successfully sought to have the prior attorney for the estate removed as a co-executor and to have an administrator appointed by the Court to serve with the remaining executor, prepared an extensive accounting for the transactions that occurred in the estate that resulted in the filing of a lawsuit seeking a surcharge against the prior co-executor on the ground that he had mishandled the assets and paid expenses that were inappropriate from the estate assets. The claims were settled for a substantial payment to the estate by the prior attorney.

Represented the executor of an estate that owned a valuable cooperative apartment in New York and handled a complex probate proceeding in the Surrogate's Court where there were in excess of 100 heirs who had to be notified of the pending probate proceeding that ultimately resulted in the admission to probate of the will and the sale of the apartment.