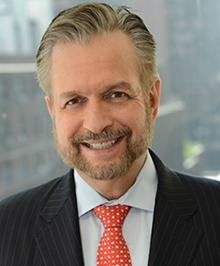 PRACTICES
Litigation
Commercial Arbitration
Corporate & Business Law
Real Estate and Governmental Relations
Real Estate
Contractual Disputes
Partnership Disputes
Integrity Oversight & Investigations
EDUCATION
​New York University School of Law, J.D.
SUNY at Albany, B.A., magna cum laude
BAR ADMISSIONS
Connecticut
New York
U.S. Dist. Ct., SDNY
U.S. Dist. Ct., EDNY
CONTACT INFORMATION

V-Card
Craig Penn is a partner whose practice includes state and federal litigation, arbitration, corporate, real estate, and licensing. Craig has represented clients in the publishing, manufacturing, real estate, financial services, advertising, jewelry, and construction industries. He has litigated disputes concerning breach of contract, trademark violation, estate matters, fraudulent conveyance, licensing, wrongful termination, ADA compliance, construction, and breach of restrictive covenant. He works with clients to plan and implement litigation strategy specifically tailored to the client and the dispute.
Craig was an Assistant District Attorney in the Brooklyn District Attorney's Office. He served in the Supreme Court, Investigations, Screening, and Criminal Court Bureaus, where he conducted bench and jury trials, grand-jury presentations (indictments), plea negotiations, and motion practice. He also researched, drafted and argued appeals before the Appellate Division, prepared white collar crimes, homicides and police shootings investigations for presentation to the grand jury, and supervised arraignments. Craig is currently representing a not-for-profit organization in connection with an investigation by the New York State Attorney General's Office.
Craig also works with clients establishing new businesses entities and purchasing and selling businesses using asset-purchase and stock-purchase transactions. He draws on experience in litigation to structure transactions and contracts which can be enforced efficiently and effectively. He has worked with clients in the drafting and negotiation of shareholder agreements, operating agreements, loan documents, employment agreements, subordination agreements, and stock pledge agreements.
Craig has delivered lectures at continuing legal education classes for the New York State Bar Association, the Association of the Bar of the City of New York, Fordham University School of Law, and Hudson Valley Bank. He has guest lectured at NYU Stern School of Business Undergraduate College and served as a coach at the NYU Stern Graduate School of Business Entrepreneur's Challenge (2008-2011).
He has been an Eagle Scout since 1972, and was a member of the Board of Directors of the Manhattan Council of the Boy Scouts of America.
Publications
Marrow, Paul Bennett and Penn, Craig E., Policing Unfair Arbitration Clauses (October 6, 2014). NYLS Legal Studies Research Paper.
Marrow, Paul Bennett and Penn, Craig E., The 'Circle of Assent' Doctrine and the Mandatory Pre-Dispute Arbitration Clause: When the Unconscionable Contract Analysis Just Won't Do (2013). Dispute Resolution Journal, Vol. 68, No. 3, 2013.
Professional Memberships
Federal Bar Council, Employment Law Committee
Association of the Bar of the City of New York
American Bar Association
Westchester County Bar Association