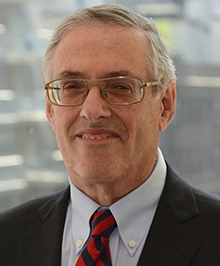 PRACTICES
Trusts and Estates
Private Client Services
Appellate Practice
EDUCATION
​Brooklyn Law School, J.D.
Knox College, A.B.
BAR ADMISSIONS
New York
U.S. Dist. Ct., SDNY
U.S. Dist. Ct., EDNY
U.S. Ct. of Appeals, 2nd Cir.
U.S. Supreme Court
U.S. Tax Court
CONTACT INFORMATION

V-Card
Represented the executors of estates where the decedents owned substantial interests in entities that owned and operated commercial or residential real estate in various cities on the East Coast, including Manhattan, and substantial art collections, that had to be appraised for estate or gift tax purposes. In many cases, when the returns were audited the reported values were either accepted without change or only nominally increased after negotiations with the tax authorities.

Represented the corporate or individual executors and trustees of litigated estates and trusts where formal accountings were filed in the Surrogate's Courts and approved by the Courts. In addition, many estate and trust accountings were approved outside of the Court.

Represented the grandchildren of a decedent who were the residuary beneficiaries of a large estate and who filed claims against the administrator of the estate on the ground that he mishandled the assets of the estate and paid expenses that were inappropriate from the estate assets. The claims asserted by the grandchildren were settled on the eve of trial for a very substantial payment by the insurance carrier for the administrator.

Represented the executors of estates that owned businesses or property both in the United States and in Europe.

Represented the executor of an estate that owned a valuable cooperative apartment in New York and handled a complex probate proceeding in the Surrogate's Court where there were in excess of 100 heirs who had to be notified of the pending probate proceeding that ultimately resulted in the admission to probate of the will and the sale of the apartment.

Represented and advised many families concerning intergenerational issues among members of their families and provided solutions to many of the problems.

Represented the Guardian of a handicapped individual who obtained Orders from the Surrogate's Court allowing a portion of the surplus income received by her ward to be annually contributed to qualifying charitable organizations.