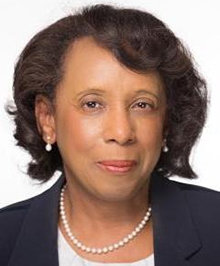 PRACTICES
Environmental Law
Land Use and Government Relations
Real Estate and Governmental Relations
Real Estate
Integrity Oversight & Investigations
EDUCATION
Syracuse University College of Law, J.D.
Syracuse University, B.A.
BAR ADMISSIONS
New York
U.S. Supreme Court
U.S. Dist. Ct., EDNY
U.S. Dist. Ct., SDNY
Eileen D. Millett
Partner
CONTACT INFORMATION

V-Card
Eileen D. Millett, a veteran lawyer, is part of Phillip Nizer's Interdepartmental Environmental Group. Eileen has been practicing environmental law, land use and litigation for more than 30 years, with a specialty in managing environmental risks and complying with regulations.
In 2018, Eileen was honored with an appointment to the Committee on Character and Fitness of the New York State Supreme Court, Appellate Division, First Department. Eileen is recognized as one of the leading attorneys in environmental law. She is an elected Fellow of the American College of Environmental Lawyers (ACOEL), is Vice-Chair of ABA Business Law Section, Environment Committee, was a trustee of the Environmental Law Institute (ELI) from 2003 to 2013, is a member of the Executive Council of the state bar's environmental section, chaired the NY City Bar Association's Environmental Law Committee from 2002-2005, is an editor of the American Law Institute CLE The Practical Real Estate Lawyer, is on the board of advisors of New York City Environmental Law Leadership Institute, and was appointed by Governor David A. Paterson to the NYS Sustainability and Green Procurement Advisory Council in 2008 to 2014.
Eileen advises her clients on the state's complex environmental assessment, brownfields, real estate and land use permitting requirements, and on environmental compliance, Superfund and hazardous waste cases, federal and state enforcement proceedings sustainability and climate change issues, and litigates cases under CAA and CWA.
Eileen has lectured and written widely on a broad spectrum of environmental topics. She also was a Visiting Professor of Syracuse University College of Law, where she taught regulatory law and policy and environmental law.
She is former staff counsel to the New York State Department of Environmental Conservation and member of the Hazardous Waste Task Force. A former general counsel to the Interstate Environmental Commission, a tri-state water quality authority, Ms. Millett also served as a New York State Assistant Attorney General, NYC Police Department Assistant Deputy Commissioner, NYC Department of Personnel Inspector General, and Queens Assistant District Attorney.
Ms. Millett has written and coauthored articles for legal and business publications; is a member of the faculty of HalfMoon Seminars, where she regularly offers her environmental overview for engineers; and is a contributor to several business and industry publications, including the
New York Law Journal
,
Practical Real Estate Lawyer
,
New York Real Estate Journal
,
Bloomberg BNA Daily Environment Report
,
Westlaw Journal Environmental
, and
Environmental Law in New York
.
Articles
"A Step too Far From A "SEP" in the Right Direction," The Practical Real Estate Lawyer, November 2017
"Department of Justice Hitches Environmental Crimes to Worker Safety Violations," The Practical Real Estate Lawyer, July 2016
New York State Bar Association Journal, September 2013, Special Issue on Future of Legal Education, Co-editor;
"Will Fracking Become the Exception to the Rule of Local Zoning Control in New York State," Westlaw Journal Environmental, August 7, 2013;
"D.C. Circuit Decision Could Determine Reach of EPA Greenhouse Gas Rules," Bloomberg BNA Daily Environment Report, June 12, 2012;
"Passive Building," New York Law Journal, July 6, 2009;
"Green Building for Dummies: What is LEED Certification?" The Practical Real Estate Lawyer, January 2009;
"Owners Required to Disclose Air Contamination Test Results," New York Real Estate Journal, October 14, 2008;
"So You Want to Build a Green Building?" New York Real Estate Journal, September 9, 2008;
"Energy Primer for Environmental Professionals," New Jersey Lawyer, June 9, 2008;
"Interstate Compacts and Water Pollution Control in the New York Region," Environmental Law In New York, April 2003.
Blog Posts
Trees have no tongues, but the Lorax has one, ACOEL, January 8, 2019
How will we cope when Day Zero arrives in a U.S. City? ACOEL, June 21, 2018
What is this NY Green Bank, ACOEL, May 21, 2014
What's Up with Ethanol Prices, ACOEL, April 30, 2014
Shouldn't we be watching Africa's Energy Consumption, ACOEL, March 13, 2013
Can a Town Ban Natural Gas Drilling Using Local Zoning Ordinances? ACOEL, March 3, 2012
Speaking Engagements
A Snapshot of Environmental Law, Syracuse University College of Law Externship Program, January 29, 2018;
"New Liability for Workplace Safety Violations: Raising the Environmental Stakes Under the MOU and the Yates Memo," American Law Institute Continuing Legal Education Seminar, Planner and Speaker, December 14, 2016.
Board of Editors
Practical Real Estate Lawyer
Board of Advisors
American Law Institute Continuing Legal Education Environmental Law Advisory Panel
New York City Environmental Law Leadership Institute
Professional Memberships
Scenic Hudson, Inc., Board of Directors, December 2017 to present
American College of Environmental Lawyers, Fellow and Regent, 2011 to present
American Bar Association, Vice-Chair, Business Law Section, 2018 - present
American Bar Association (Fellow), Section on Environment, Energy, and Resources
Municipal Art Society Law Committee, former Member
Environmental Law Institute, former Trustee and Secretary
New York City Environmental Law Leadership Institute, Board of Advisors member
Jewish Child Care Association, former Trustee
New York City Bar Association, Chair: Environmental Law Committee; Energy Committee (2002-2005)
NYSBA: House of Delegates, current Member; Co-Chair, Uniform Bar Exam Task Force, 2019; Executive Committee, former Member at Large; Environmental and Energy Section, Executive Committee; Co-Chair of Committee on Legal Education and Admission to the Bar, 2011-2015; Task Force on Climate Change, member 2009
Foreign Language Competencies
Spanish