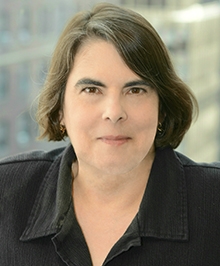 PRACTICES
Litigation
Appellate Practice
Employment & Labor Law
Real Estate and Governmental Relations
Real Estate
Fashion
Employment Litigation
Contractual Disputes
Partnership Disputes
EDUCATION
Fordham University School of Law, J.D.
Fordham University, B.A., summa cum laude
BAR ADMISSIONS
Connecticut
New York
U.S. District Court, SDNY
U.S. District Court, EDNY
U.S. District Court, NDNY
U.S. District Court, Connecticut
U.S. Supreme Court
U.S. Court of Appeals, 2nd Circuit
Laura E. Longobardi
Counsel
CONTACT INFORMATION

V-Card
Represented a tennis club in challenging a determination by the New York State Department of Labor that the club owed unemployment insurance benefits contributions for tennis professionals allegedly misclassified as independent contractors rather than employees. Obtained a decision from the NYS Unemployment Insurance Appeal Board overruling the determination by the Department of Labor.

Represented a chain of restaurants specializing in Middle Eastern cuisine in wage-and-hour actions in New York and New Jersey. Obtained favorable settlements in both actions.

Represented 18 minority workers asserting claims in the Southern District of New York under the Fair Labor Standards Act, the New York Labor Law and the New Jersey Wage-and-Hour Act against four car wash businesses and their owner, resulting in a pre-trial recovery of $1,650,000 for the plaintiffs, and an award of $1,350,928.05 in attorneys' fees and costs on a fee application. Continued representation of workers as creditors in related bankruptcy proceedings filed by debtors attempting to derail the Southern District action. Moved for and obtained relief from automatic stay provisions of the Bankruptcy Code in order to continue action in the Southern District of New York; moved for and obtained extensions of deadlines to file proofs of claims and to file complaints objecting to dischargeability of debts; and moved for and obtained appointment of Chapter 11 Trustees for the debtors' estates.

Represented 23 minority workers in a complex litigation in the Essex County (N.J.) Superior Court against a national mail services logistics company, alleging a sexually and racially hostile work environment, and retaliation in response to workers' complaints. Obtained a settlement of $6,000,000.00 (inclusive of attorneys' fees) on behalf of all plaintiffs.

Represented plaintiffs on appeal of dismissal of action alleging ERISA, breach of contract and unjust enrichment claims arising out of 2001 failure of Superior Bank FSB. (Augienello v. Coast-to-Coast Financial Corp., 64 Fed. Appx. 820 (2d Cir. 2003).)

Represented Korean distributor of pianos manufactured by another Korean defendant against claims of alleged unlawful restraint of trade, resale price maintenance, boycott, concerted refusal to deal and monopoly arising under the Sherman Act, and alleged violations of the Robinson-Patman Act. (Rosen v. Hyundai Group (Korea), 829 F. Supp. 41 (E.D.N.Y. 1993).)

Represented defendant airline and related entities on motion to determine availability of punitive damages under the Warsaw Convention in civil action arising from terrorist bombing. (In re Air Disaster in Lockerbie, Scotland, 733 F. Supp. 547 (E.D.N.Y. 1990), aff'd, 928 F.2d 1267 (2d Cir. 1991).)

Represented employer against wrongful death action brought by estate of deceased employee who was killed in crash of corporate-owned jet while traveling on business. (Molinari v. Kar-San Dev. Corp., 117 A.D.2d 194 (3d Dep't 1986), aff'd mem., 69 N.Y.2d 910 (1987).)

Represented the children of a decedent (a descendant of John D. Rockefeller) in probate contest in New York County Surrogate's Court alleging undue influence and fraud by decedent's husband.