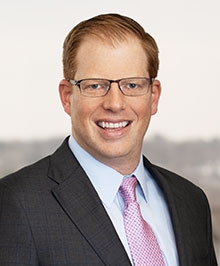 PRACTICES
Matrimonial & Family Law
Private Client Services
EDUCATION
Tulane Law School, J.D.
University of Wisconsin, B.A.
BAR ADMISSIONS
New Jersey
New York
Louisiana
CONTACT INFORMATION
Tel:
NY: (212) 977-9700 * NJ: (201) 975-4413
Fax:
(212) 262-5152 * (201) 646-1764

V-Card
Louis Gerber is a partner in Phillips Nizer's New York/New Jersey Metro Family Law practice advising clients in both states.
Louis is known as a zealous and compassionate advocate for his clients. He has extensive trial and negotiated settlement experience in matrimonial and family law matters.
Louis handles all aspects of matrimonial and family law in both New York and New Jersey allowing him to protect his clients' best interests and ensure they receive everything to which they are entitled. He represents individuals in uncontested and contested matrimonial matters and is a trusted advisor to his clients in disputes concerning the distribution of assets, spousal support, custody, parenting time and domestic violence.
The dissolution of a marriage has a myriad of financial implications. Louis helps his clients navigate these complex custodial and financial matters and advises his clients on pension and retirement plans, stock options and grants, trusts, limited partnerships, closely held corporations and the valuation of businesses, professional licenses and enhanced earning capacity in the context of equitable distribution. Louis obtains beneficial settlements for his clients, prepares cases for hearings and trials and conducts same as lead counsel.
Prior to focusing his practice on matrimonial and family law, Louis was Senior Counsel with the New York City Law Department. As Senior Counsel, Louis litigated complex commercial and civil rights actions filed against the City of New York. Notably, Louis was lead counsel in the mass tort actions relating to the 2007 steam pipe rupture in midtown Manhattan. He was also the City's trial counsel in cases resulting from the Staten Island Ferry accident in 2003 and was trial counsel in civil rights actions stemming from the New York Police Department's use of deadly physical force. Louis has tried cases in both state and federal court as well as argued cases in appellate courts.
Louis serves on the Early Settlement Panel Program in Bergen County Superior Court and assists in settling matrimonial cases.
He is a member of the New York State Bar Association (Matrimonial/Family Law Section), New Jersey State Bar Association (Matrimonial/Family Law Section), Bergen County Bar Association and Rockland County Bar Association.
Louis is the 1st Vice President and member of the board of trustees for West Bergen Mental Healthcare.
Louis earned his law degree from Tulane Law School and his undergraduate degree from University of Wisconsin.
Professional Memberships
New York State Bar Association (Matrimonial and Family Law Section)
New Jersey Bar Association (Matrimonial and Family Law Section)
Bergen County Bar Association
Rockland County Bar Association
Bergen County Superior Court Early Settlement Panel Panelist
Ridgewood A.M. Rotary Club