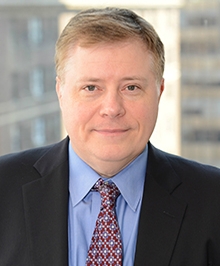 PRACTICES
Banking & Finance
Securities
Antitrust and Unfair Competition
Creditors' Rights and Restructuring
Appellate Practice
Antitrust and Unfair Competition
Contractual Disputes
Partnership Disputes
Integrity Oversight & Investigations
Litigation
EDUCATION
Yale Law School, J.D.

Fordham University, B.A., summa cum laude, Phi Beta Kappa
BAR ADMISSIONS
New York
U.S. District Ct., SDNY
U.S. District Ct., EDNY
U.S. Supreme Court
U.S. Ct. of Appeals, 2nd Cir.
U.S. Ct. of Appeals, 3rd Cir.
U.S. Ct. of Appeals, 9th Cir.
CONTACT INFORMATION

V-Card
Super Lawyers® (2018)

09/13/2018

Seventeen Phillips Nizer attorneys were announced on September 13, 2018 as selected for inclusion on the 2018 New York Metro Super Lawyers and Rising Stars lists. Attorneys represented a cross-section of several practice areas and industry teams.

Super Lawyers® (2017)

09/20/2017

It was announced on September 20, 2017, that sixteen Phillips Nizer attorneys were selected for inclusion on the 2017 Super Lawyers list. Alternative Dispute Resolution, Banking, Business Litigation, Entertainment, Intellectual Property, and Trusts & Estates practices were represented.

Super Lawyers® (2016)

10/21/2016

On September 21, 2016 it was announced by Super Lawyers® that twenty-three Phillips Nizer attorney were selected for inclusion on the 2016 Super Lawyers and 'Rising Stars' lists. This is the second consecutive year the firm has had twenty-three lawyers recognized.

Media - On March 16, 2016, Law360 published reactions from attorneys nationwide about the announcement by President Barack Obama of his nomination of D.C. Circuit Chief Judge Merrick Garland to the U.S. Supreme Court. Law360 sought to learn what kind of justice attorneys believed Judge Gardland could be and the challenges he faces from the Senate.

03/16/2016

Litigation partner, Mark Elliott, shared his point of view with the publication:

By nominating someone who is both well-qualified and perceived as a centrist, the President has put clear political pressure on the Senate to act timely and fairly with respect to this nominee. Indeed, the Senate should give Judge Garland a hearing and vote on the same timetable that they would any other Supreme Court nominee. In this very polarized, politicized atmosphere, it is critical that the legal community speak up on the importance of filling the vacancy in a timely manner.

Law360 is a subscription based, legal news service operated by the Portfolio Media company, a subsidiary of LexisNexis.