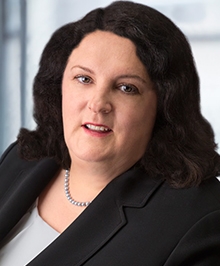 PRACTICES
Litigation
Commercial Arbitration
Appellate Practice
Intellectual Property
Entertainment
Fashion
Copyright
Trademark
Licensing
Not-For-Profit
Restaurant, Food Service & Hospitality Group
Contractual Disputes
Partnership Disputes
EDUCATION
Georgetown University Law Center, J.D., cum laude
University of Chicago, M.A.
Fordham University, B.A., summa cum laude, Phi Beta Kappa
BAR ADMISSIONS
New York
Washington, D.C.
U.S. Dist. Ct., SDNY
U.S. Dist. Ct., EDNY
U.S. Supreme Court
U.S. Ct. of Appeals, 2nd Circuit
U.S. Ct. of Appeals, 9th Circuit
U.S. Ct. of Appeals, DC Circuit
CONTACT INFORMATION

V-Card
Super Lawyers® (2018)

09/13/2018

Seventeen Phillips Nizer attorneys were announced on September 13, 2018 as selected for inclusion on the 2018 New York Metro Super Lawyers and Rising Stars lists. Attorneys represented a cross-section of several practice areas and industry teams.

Super Lawyers® (2017)

09/20/2017

It was announced on September 20, 2017, that sixteen Phillips Nizer attorneys were selected for inclusion on the 2017 Super Lawyers list. Alternative Dispute Resolution, Banking, Business Litigation, Entertainment, Intellectual Property, and Trusts & Estates practices were represented.

Speaking Engagement - M​onica McCabe, partner in our Intellectual Property and Entertainment Law practices will moderate the American Bar Association (ABA) CLE panel program, "No "Blurred Lines" in the Judgment for the Marvin Gaye Family", on Wednesday, June 22nd from 1:00 – 2:30 p.m. examining the jury verdict and subsequent proceedings, including the denial of attorneys' fees, in Pharrell Williams v. Bridgeport Music et al, 2015 Copr.L.Dec.P30, 791.

06/22/2016

Topics covered will include strategy in bringing a declaratory judgment action, substantial similarity and sound recording issues, use of experts, use of impeaching deposition testimony, damage analysis and jury instructions.

Media - As seen on Pitchfork.com...The online music magazine publishes interview of Entertainment and Intellectual Property Law partner Monica McCabe, a former attorney for Grammy® Award-winning recording artist Prince, who she represented in a dispute involving his famous symbol-shaped guitar.

04/27/2016

Monica

represents financial sector service providers, manufacturers of industrial and commercial products; consumer goods; fashion, apparel and jewelry manufacturers and distributors; actors, musicians, authors, publishers, illustrator, photographers; and non-profit entities. She supervises the prosecution and maintenance of trademarks, represents clients in the protection, assignment and licensing of intellectual property portfolios and domain names, and counsels clients on rights of privacy and publicity, infringement, unfair competition, trade dress and trade secret issues.