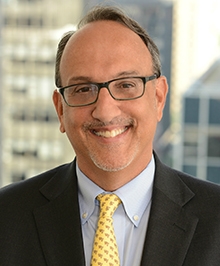 PRACTICES
Matrimonial & Family Law
EDUCATION
Seton Hall University School of Law, J.D.
State University of New York at Oswego, B.A.
BAR ADMISSIONS
New York
U.S. District Court, SDNY
U.S. District Court, EDNY
CONTACT INFORMATION

V-Card
Successfully represented a husband in one of the first same-sex divorces in New York State after the passage of NYS's Marriage Equality Act, in which I obtained for my client – after more than two years of litigation - legal custody and 50-50 parenting time of the parties' adopted son.

Successfully represented the wife in a litigious divorce dealing with both financial and custodial issues, in which the key financial issue was the valuation of the husband's interest in of the first private jet charter businesses established after 9/11,and which went to trial and which resulted in a very favorable outcome for the wife.

Successfully represented the above wife in a post-judgment contempt hearing in which the husband was ultimately put in jail – an unusual outcome for contempt in a civil action - for his abject and ongoing failure to abide by his financial obligations, including child support, spousal support and the equitable distribution of marital assets.

Successfully represented a mother in a relocation matter, which involved the mother's need to relocate to Chicago with her 10 year old daughter from her first marriage so that she and her daughter could join her new husband and two infants (under the age of 3) due to his new employment. The relocation was granted.

Successfully represented a very well know actor in litigation with the mother of their two young children (twins who about 3 years old at the time), relating to her desire to return to her home in California with the children. The matter was ultimately settled out of court.

Successfully represented a well know comedian and actor in his divorce from his wife; one of the key issues was the value of the husband's goodwill celebrity as a marital asset. The matter was ultimately settled when we appeared for trial.