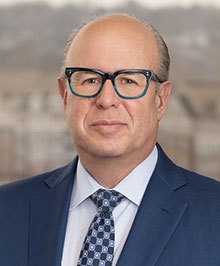 PRACTICES
Litigation
Real Estate
Cooperative and Condominium Law
Appellate Practice
Contractual Disputes
Partnership Disputes
EDUCATION
Seton Hall University, J.D.
Ramapo College, B.S., magna cum laude
BAR ADMISSIONS
New Jersey
U.S. District Court, District of New Jersey
U.S. District Court, S.D.N.Y. (White Plains)

U.S. Court of Appeals, Third Circuit

U.S. Supreme Court
Scott B. Piekarsky
Partner
CONTACT INFORMATION

V-Card
Scott Piekarsky is a partner in the Litigation and Real Estate Departments in the New Jersey office. He is certified as a civil trial attorney by the New Jersey Supreme Court. Working on a large spectrum of litigation matters, Scott regularly handles cases involving general corporate and business law, professional liability, attorney ethics and professional licensing representation, expert review, community association, real estate, healthcare, nursing home and assisted living litigation, personal injury, chancery, commercial collections, probate and appellate law.
Scott has decades of experience working on a vast array of defense insurance cases, and maintains an active practice providing legal counsel to community associations and homeowners associations. He is a Court Qualified Mediator and has served on many occasions as a court appointed attorney, guardian, special master and special fiscal agent.
Scott is very active in professional development, ethics issues and mentoring. He is a member of the New Jersey Supreme Court Committee on Women in the Courts, which provides education to law students, the bench and bar on gender and LGBTQ issues. On that committee, he participated in the preparation of a bench guide for municipal and superior court judges, providing guidance on topical issues such as transgender issues, religious garb, et al. He is a Master in the Justice Robert L. Clifford Inn of Court and a former Barrister in the Morris Pashman American Inn of Court. He served as a law clerk to the Hon. Peter Ciolino, Assignment Judge of the Superior Court, Bergen County. Scott writes regularly for legal publications about ethics and practice issues.
Articles
University of Miami Business Law Review Vol 30, Issue 2, The Increased and Permanency of Technology: How Those Changes Impact Attorneys' Professional Responsibility and Ethical Obligations to Clients and Recommendations for Improvement, March 2022
Rutgers Business Law Review Vol 16 No.1: COVID-19 Symposium 2020: Ethical Issues and Best Practices While Working Remotely During the COVID-19 Pandemic, October 2020
Author, "Online Malpractice and Ethics," New Jersey Lawyer, April 2019
Author, "The Dermatologist as Expert Witness Revisited: Know The Risks Before You Agree," Seminars in Cutaneous Medicine and Surgery," December 2013, page 234
Author, "The Dermatologist as Expert Witness," Seminars in Cutaneous Medicine and Surgery, September 2005, page 114
Author, "Avoiding Malpractice Claims," New Jersey Law Journal, July 1998
Speaking Engagements
Ethics and the First Amendment, NJ ICLE, Moderator, September 22, 2021

2021 Legal Malpractice Update, NJ ICLE, March 27, 2021

The Life and Times of Louis Nizer, NJ ICLE, December 18, 2020
How to Lay of Foundation to Get Your Evidence Introduced: Applying Ethics Rules to Evidence, National Business Institute, July 27, 2020
Legal Ethics: Honesty in Settlement Negotiations, National Business Institute, March 16, 2020
Real Estate Transactions From A:Z - 2 Day Event, National Business Institute, December 3-4, 2019
Plaintiff's Personal Injury: Advanced Practice, National Business Institute, September 2019
The Rules of Evidence: A Practical Toolkit, National Business Institute, June 2019
Legal Ethics: Top 10 Mistakes Attorneys Make Online, December 2018
Damages in Personal Injury, National Business Institute, December 2018
Advanced Trial Tactics, National Business Institute, December 2018
Personal Injury 101, National Business Institute, December 2018
Legal Malpractice Update, NJ ICLE, 2001, 2006, 2007, 2008, 2009, 2010, 2011, 2012, 2013, 2014, 2015, 2016, 2017, 2018, 2019
The Attorney Client Relationship: Establishing the Relationship, Retainer Agreements and Ongoing Client Communications, NJ ICLE, 2018
Housing Discrimination Issues for Lawyers, NJ ICLE, 2017
The Attorney Client Relationship: Establishing the Relationship, Retainer Agreements and Ongoing Client Communications, NJ ICLE, 2017
Understanding and Presenting Legal Malpractice Claims, NJ ICLE, 2016
Recent Developments in New Jersey Law: 2015 Update, NJ ICLE, 2015
Social Media Issues, Professionalism Seminar as Member of Bergen County Bar Association Committee on Professionalism, October 2013
Construction Defect Litigation: From A to Z, National Business Institute, September 2013
Social Media and Ethics for Attorneys, Private In house Programs, 2013
How To Ethically Market Yourself and Your Practice Without Creating Liability and Ethic Grievances, December 2012
What is Practicing Professionally? And What is Not? Professionalism Day Program For Passaic County Bar Association, October 2012
Dirty Litigation Tactics: How to Deal With a Rambo Lawyer, National Business Institute, September 2012
NJ Legal Ethics: Solutions to the Most Common Challenges, National Business Institute, December, 2011
Defending NJ Attorneys in Ethics Proceedings, Lawline On-line CLE Course, September, 2011
Building Your Civil Trial Skills, National Business Institute, August 2011
New Challenges in Condo, Co-op and Homeowner Association Law, NJ ICLE, January 2011
Peer Review Rating
AV Preeminent Rated by Martindale-Hubbell
Professional Memberships
American Board of Trial Advocates, Member
Former Barrister, Justice Morris Pashman American Inn of Court
Rule 1:40 Court Qualified Mediator, Approved Mediator Mentor & Mortgage Foreclosure Mediator
Master in Justice Robert L. Clifford Inn of Court
AV Rated
Super Lawyers 2013 through 2023
Member of NJ Supreme Court Committee on Gender, previously known as NJ Supreme Court Committee on Women in the Courts