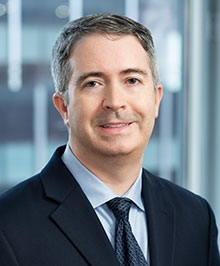 PRACTICES
Intellectual Property
Patent
Litigation
Trademark
Copyright
EDUCATION
J.D., Boston University School of Law, magna cum laude
B.A., Cornell University, College of Arts and Sciences, Physics
BAR ADMISSIONS
New York
U.S. Patent and Trademark Office
U.S. Supreme Court
U.S. Court of Appeals, Federal Circuit
U.S. Court of Appeals, 2nd Circuit
U.S. District Court, Southern District of New York
U.S. District Court, Eastern District of New York
U.S. District Court, Northern District of New York
Timothy P. Heaton
Counsel
CONTACT INFORMATION

V-Card
Timothy Heaton is a counsel in the Intellectual Property and Litigation Practices at Phillips Nizer LLP, in the New York office.
Timothy's practice focuses on all aspects of intellectual property litigation and counseling. He has extensive experience preparing for and conducting trials in district courts nationwide both asserting and defending against allegations of patent infringement for over 20 years, and is also experienced in copyright and trademark litigation, Federal Circuit appeals, inter partes reviews of patents under the America Invents Act and alternative dispute resolution. He counsels both corporate and individual clients on all aspects of IP law as to IP strategy, freedom-to-operate analysis, IP licensing, protection of innovations, and the intricacies of Hatch-Waxman pharmaceutical disputes.
Tim has represented clients in a wide variety of industries including computer software and hardware, pharmaceuticals and specialty chemicals, consumer products, mechanical devices, semiconductors and semiconductor manufacture, confectionery flavoring agents, internet usage analytics and graphics processing.
Tim is admitted to the New York and USPTO Patent Bars. He is currently serving as Vice Chair of the Patents Committee of the New York City Bar Association, and has served as chair of the Patents Committee's amicus briefs subcommittee. In that regard, he has prepared and filed numerous amicus briefs on patent law topics in both the U.S. Supreme Court and U.S. Court of Appeals for the Federal Circuit, on behalf of the New York City Bar Association.
Tim's technical background includes a degree in physics, and having served as a research assistant at Cornell University's Wilson Synchrotron Laboratory, a high energy particle physics facility.
Tim also has an ongoing interest in serving the underprivileged, which he has pursued through pro bono representation of immigrant children facing removal proceedings.
Tim was previously a counsel at Troutman Sanders LLP, and an associate at Morgan, Lewis & Bockius LLP and at the former patent boutique firm of Hopgood, Calimafde, Kalil & Judlowe LLP.
Representative Matters
Patent Litigation
Secured favorable bench trial ruling against generic manufacturers in Hatch-Waxman ANDA litigations relating to opioid dependence treatment medication. (D. Del.).
Obtained jury verdict of willful infringement and no invalidity of materials polishing patents, with award of attorneys' fees and denial all post-trial motions. Affirmed by Federal Circuit. (M.D. Tenn.).
Member of trial team that obtained jury verdict of infringement on behalf of semiconductor manufacturer asserting patents claiming thin film transistors used in flat screen technology. (C.D. Cal.).
Obtained summary judgment of noninfringement followed by jury verdict of invalidity on anticipation and obviousness grounds on behalf of manufacturer accused of infringing patent on model plane radio communication. Affirmed by Federal Circuit. (C.D. Ill.).
Represented patentee asserting graphics processing patents against key industry player; obtained significant settlement on eve of trial. (W.D. Wisc.).
Litigated USB flash drive patent to successful settlement in East Texas "rocket docket." (E.D. Tex.).
Obtained settlement on eve of trial in which no damages were paid on behalf of company defending against allegations of infringement of patents claiming methods of tracking internet webpage usage. (E.D. Va.).
Represented pharmaceutical company patentees in several Hatch-Waxman litigations asserting patented medicines. (D.N.J., D. Del., S.D.N.Y., N.D. Cal., S.D. Fl.).
Represented defendant confectionery manufacturer in obtaining summary judgment of invalidity of artificial flavoring patent, affirmed by Federal Circuit. (N.D. Ill.).
Copyright Litigation
Counseled jewelry manufacturer in preventing litigation as to alleged copyright infringement.
Obtained temporary restraining order, preliminary injunction, and summary judgment of infringement ruling on behalf of holder of copyright in computer database software. (N.D. Cal.).
Trademark Litigation
Represented internet webpage usage analytics company defending against trademark infringement allegations. The Court granted summary judgment on descriptiveness and secondary meaning, motions to exclude experts, motion to cancel or amend trademarks, and motion for attorneys' fees. (S.D.N.Y.).
Obtained co-existence settlement agreement on behalf of prior user of trademark seeking declaration of no trademark infringement. (D.N.J).
Successfully defended community arts organization in securing arbitration finding of no trademark infringement. (E.D.N.Y.).
Advised owners of nonprofit theater regarding assertion of trademark rights against infringer.
Professional Memberships
New York City Bar Association, Vice Chair of Patents Committee (2019-2022), Member of Patents Committee and its Amicus Briefs Subcommittee (2010-Present)
American Bar Association (ABA), Intellectual Property Law Section
Alumni Class Officer, Cornell University
Member, Steering Committee of the Junior Council, American Museum of Natural History