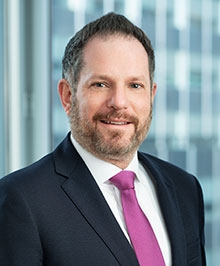 PRACTICES
Intellectual Property
Patent
Litigation
Trademark
Copyright
International
Technology
Fashion
EDUCATION
Brooklyn Law School, J.D.
University of Miami; M.S., Biomedical Engineering
State University of New York, Buffalo; B.S., Aerospace/Mechanical Engineering
BAR ADMISSIONS
U.S. Patent and Trademark Office
U.S. District Court, Southern District of New York
U.S. District Court, Eastern District of New York
U.S. District Court, District of Colorado
U.S. Court of Appeals, Federal Circuit
CONTACT INFORMATION

V-Card
Phillips Nizer's IP Group Hosted Event On IP Fashion Law Updates Among International Lawyers at Raffles Singapore on May 17

06/13/2023

On May 17, Alan Behr, Partner and Chair, Phillips Nizer IP Fashion Group, hosted a discussion on intellectual property law among an esteemed group of international attorneys who gathered for traditional afternoon tea in the Tiffin Room at the legendary Raffles Singapore. The event was held during the 2023 Annual Meeting of the International Trademark Association (INTA). Also in attendance from the firm was Tod M. Melgar, Partner and Chair, Phillips Nizer Patent Practice Group.

Alan Behr Co-edits Luxury Law, The Law Over Borders Comparative Guides 2022

07/01/2022

Mr. Behr, a partner in the Corporate & Business Law Department and Intellectual Property Practice, and chairman of the Fashion Practice at Phillips Nizer LLP, co-edited The Law Over Borders, a published work of comparative guides providing essential information on law and legal practice across the world comparing the legal frameworks of different jurisdictions.

Phillips Nizer Intellectual Property Legal Alert - Fake News, Fake Invoices (March 2021)

03/25/2021

You've heard of fake news, but what about fake invoices? Beware of bogus notices and invoices from imposters.

Recently, there has been a proliferation of companies that pose as the U.S. Patent & Trademark Office (USPTO) which try to fool trademark owners into paying to them amounts needed to maintain or renew their trademarks. These fraudsters mail trademark owners phony notices with names and typefaces so realistic that even sophisticated clients have been fooled.