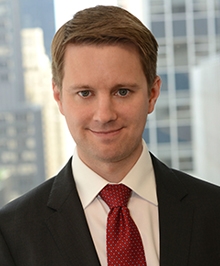 PRACTICES
Corporate & Business Law
German Practice
German Practice (Deutsch)
International
EDUCATION
Boston University School of Law, LL.M (American Law)
Georg-August-Universität Gottingen (University of Gottingen) School of Law, J.D. equivalent
BAR ADMISSIONS
Florian von Eyb
International Counsel
CONTACT INFORMATION

V-Card
​Florian von Eyb is International Counsel to the Corporate and Business Law Department and part of the firm's German Practice. A German native, he is a licensed attorney in Germany and New York.
The focus of his German Practice is on US-inbound and international business transactions of companies and individuals from the German speaking countries of Europe. Serving as a bridgehead in the USA, he supports his clients' from their market entry, advising on the creation of U.S. subsidiaries, the acquisition of existing U.S. entities and the establishment of contractual relationships with U.S. partners. As an attorney who is licensed in Germany and New York, he offers our German clients the comfort of not only being able to understand and translate their native language, but also to explain the differences between German and U.S. legal concepts and problems from a German legal and cultural perspective.
In addition to corporate and business law (including Mergers and Acquisitions), Mr. von Eyb advises German and U.S. clients on employment law, immigration law (work visa and double-citizenship) and trademark issues. Furthermore, he serves as a German intermediary for German speaking clients who seek advice from our experts in all specialized areas such as tax, litigation, trust and estates and family law.
Publications
Mr. von Eyb has also been published. In October 2007, together with Phillips Nizer's International Counsel, Steven H. Thal, he authored, "Foreign Investors In the U.S.A. Under Suspicion: More political control for more national security," ("Investoren unter Generalverdacht"), an article published in the German newspaper,
Handelsblatt
, and in English on our Website under the title "Foreign Investors In the U.S.A. Under Suspicion: More political control for more national security", relating to the Foreign Investment and National Security Act.
Furthermore, he is the co-author of our quarterly German Newsletter Zur Information" (please see below).
International Section of the New York State Bar Association
In addition to his practice, Mr. von Eyb is actively involved in the International Section of the New York State Bar Association. He served as a member of the Steering Committee for the First Annual "Fundamentals of International Practice" CLE program in April 2009. Currently, he is working with the former chair of the International Section, Michael Galligan, to develop and improve communication and cooperation among all International Sections of bar associations in other states.
Prior Experience
Prior to joining Phillips Nizer, Mr. von Eyb clerked in the German law firms of Redeker, Sellner, Dahs & Widmaier in Bonn and Cornelius, Bartenbach, Haesemann in Cologne, where he focused on German contract law, as well as trademark, copyright and antitrust issues.
Education
Mr. von Eyb received his law degree from Georg-August-Universität Göttingen (School of Law) in Germany in 2003. After his clerkships (Referendariat) in the cities of Bonn, Cologne and New York, he was admitted to the German Bar in August 2007. In 2007, Mr. von Eyb also received his LL.M. in American Law with a concentration in international business practice from Boston University School of Law.
German Newsletter "Zur Information"
Die Führung einer U.S.-Corporation - Gemeinsamkeiten und Unterschiede im Vergleich zur deutschen AG
AGB ohne AGB Gesetz Versteckte Gefahren in U.S. Terms and Conditions of Sale
Geistiges Eigentum in Lizenzierung, Übertragung und Insolvenz zwischen Deutschland und den USA
Diskriminierung nach US Arbeitsrecht- Die gefahrlichsten Fallen im Einstellungsverfahren
US-Punitive Damages: Nicht mehr so schlimm! Rechtsprechung entschärft das Schadensersatzrisiko
Auslandsinvestitionen und nationale Sicherheit - ein politischer und rechtlicher Balance-Akt
"Qualification as a Foreign Corporation"-Anmeldung eines Unternehmens in mehreren U.S.-Staaten
"Piercing the Corporate Veil" Durchgriffshaftung fur Corporations und Limited Liability Companies nach US-Recht
Die Anerkennung deutscher Urteile in den USA
Die Treuepflichten der Mehrheitsaktionäre: ein deutsch-amerikanischer Vergleich
Kreditsicherung durch bewegliches Eigentum im U.S. Recht- ein Wegweiser durch das UCC
Das "Safe Harbor" System: Datenschutz zwischen der EU und den Vereinigten Staaten Mit Vergleich zu Kanada
Professional Memberships
New York State Bar Association (Member, International Section)
German American Chamber of Commerce
American Council on Germany
Rechtsanwaltskammer Koln (German Bar Association/Cologne)
Alumni Jura Gottingen e.V.
Foreign Language Competencies
German (Native)