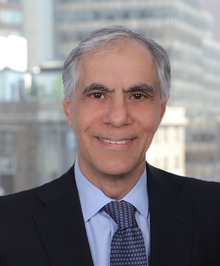 PRACTICES
Litigation
Appellate Practice
Commercial Arbitration
Contractual Disputes
Partnership Disputes
Corporate & Business Law
Real Estate
Employment and Labor
EDUCATION
The George Washington University Law School, J.D.
Clark University, B.A., magna cum laude, Phi Beta Kappa
BAR ADMISSIONS
New York
U.S. Dist. Ct., SDNY
U.S. Dist. Ct., EDNY
CONTACT INFORMATION

V-Card
Commercial Disputes

Represented a group of cardiologists departing from a medical practice resulting in a favorable settlement of a contentious lawsuit with their former partner on the first day of trial and assisting them in the establishment of their separate medical practice.
After an evidentiary hearing which included testimony from a handwriting expert, achieved the vacating of a bank's $500,000 judgment against the client and obtained the recovery of all of the client's legal fees.
Counselled a retailer of electronic accessories through a winding down process involving the negotiation and surrender of commercial leases for the client's stores in a number of different shopping malls in several states, employee terminations and corporate dissolution tasks.
Challenged an insurance carrier's disclaimer of medical and nursing care expenses filed by the Conservator of his disabled wife totaling nearly a quarter million dollars and, after commencing a proceeding before the American Arbitration Association, obtained a settlement resulting in the insurance carrier paying 100% of the claims and the client's legal fees.
Represented a large factoring company in numerous commercial litigations seeking payment of factored invoices assigned to it by its clients and in the enforcement of judgments obtained.
Represented the holder of a promissory note against a defaulting debtor and obtained a judgment and enforced it resulting in payment in full in addition to the client's legal fees and expenses.


Real Estate Litigation

Represented a Shelter Island property owner in a complex property dispute over rights to a boat dock shared by three property owners which had resulted in several lawsuits in Supreme Court, Suffolk County and a favorable settlement for the client.
Represented various businesses, including restaurants, retail stores and a computer graphics school, in the defense and settlement of both physical premises and/or website accessibility Federal lawsuits brought against them under the Americans with Disabilities Act.
Represented the owners of a West Village residential property against a contract purchaser's lawsuit seeking rescission of the contract based upon an alleged title defect, and in defending and counterclaiming on behalf of the clients, compelled the plaintiff to discontinue its action and surrender $730,000 (90% of the contract deposit).
Achieved the dismissal of a tortious interference with contract claim asserted by a real estate broker against a major financial institution which had provided financing for a real estate development in Seattle, Washington. Alan G. Stevens v. Martin Selig, Martin Selig Real Estate, and PB Capital Corporation (Supreme Court, New York County)
Represented the purchasers of a newly constructed condominium apartment in a lawsuit against the Sponsors seeking rescission of their purchase and recovery of money damages for breach of contract based upon defective construction and resultant extensive water damage and, upon plaintiffs' motion for partial summary judgment, obtained the Court's decision granting summary judgment on the issue of liability for breach of contract Giovanni Villamar and Julissa Cruz v. 13th and 14th Street Realty, LLC (Supreme Court, New York County) resulting in a settlement.


Employment Litigation

Represented a senior executive of an international green energy corporation in securing an order compelling the company to arbitrate the client's claims for monetary compensation and equity under his employment contract.
Represented a partner of an advertising agency which wrongfully terminated the client for the purpose of depriving him of his contractual severance pay while enforcing a non-compete clause on the pretext that he had voluntarily resigned his position, resulting in a favorable outcome for the client and release from the restrictive non-competition clause after filing a Demand for Arbitration.
Represented a literary agent in a lawsuit in the Federal court against his former employer to establish his entitlement to commissions for having brought to the defendant agency the English language publishing rights for one of the best-selling Japanese language non-fiction works ever published in the United States.
Represented the Chief Executive Officer of a formal wear clothing company in his severance claim before the American Arbitration Association resulting in the three member arbitration panel, after a weeklong hearing, rendering award granting the client's million dollar claim, including legal fees, in its entirety, and, thereafter, enforcing the judgment obtained thereon for full payment.


Malpractice Litigation

Successfully represented a client in a legal malpractice claim in a Federal court against a law firm which had negligently failed to comply with a court ordered discovery order resulting in the dismissal with prejudice of the client's meritorious pharmaceutical products liability case.