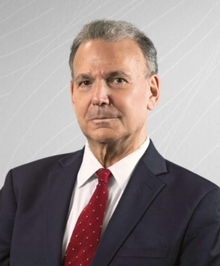 PRACTICES
Employment & Labor Law
EDUCATION
Hofstra University School of Law – Juris Doctor

Founding Editor in Chief, Hofstra Labor & Employment Law Journal

Union College – Bachelor of Arts (Interdepartmental Major), summa cum laude

Phi Beta Kappa
Eliphalet Nott Scholar
Interdepartmental Honors in Political Science and History
BAR ADMISSIONS
State of New York
United States District Court for the Southern District of New York
United States District Court for the Eastern District of New York
CONTACT INFORMATION

V-Card
David is a partner in the Employment & Labor Law Practice with extensive experience counseling and, where necessary, defending employers before federal and state courts and administrative agencies at the federal, state, and local levels. His clients include companies and corporations in the hospitality, financial services, entertainment, fashion, retail, medical, and publishing industries.
David maintains direct and continuous contact with clients (including human resources professionals and in-house counsel) through counseling, client alerts, webinars, onsite training, and internal audits. He takes a preventive approach in the interpretation and implementation of federal, state, and local employment laws and regulations to lessen, if not eliminate, the percentage of legal exposure, cost, and surprise to clients. David also trains, mentors, and supervises departmental attorneys in all areas of the law and serves as a "player-coach" in all venues, including mediation, arbitration, and litigation.
Throughout his career, David has been active in the labor and employment law fields. David served as Chair of the Wage & Hour Practice Group at Moses & Singer LLP where he designed and implemented client-specific policies, procedures, and training programs to facilitate compliance with federal, state, and local employment laws and regulations. Having also previously served as Managing Attorney for the New York City Commission on Human Rights, David was responsible for the daily legal activities and operations of its Law Enforcement Bureau. As such, David remains active in counseling clients on preventive policies, procedures, and programs to maintain compliance with federal, state, and local human rights laws and regulations.
Earlier in his career, David served as General Counsel for the Muscular Dystrophy Association (MDA), a national not-for-profit corporation dedicated to combating neuromuscular diseases and to providing care, treatment, education, and legal services to disabled individuals. His tenure at MDA gives him additional insight into the importance of developing and maintaining workplace policies and procedures that conform to corporate and legal developments.
David is a frequent lecturer and author of numerous articles on wage and hour and equal opportunity laws and regulations. In 2010, David was elected President of the New York City Chapter of the Labor and Employment Relations Association where he organized and conducted programs on developments in the fields of employment, labor, civil rights, and immigration. In 2012, David received the Samuel M. Kaynard Award for Excellence in the Fields of Labor & Employment Law, an honor recognizing his "strong ideals, accomplishments, keen legal acumen, and contributions to the field of labor law." In 2014, David was named a Super Lawyer in the Metro Edition of New York Super Lawyers.
Litigation Background
Successfully defended domestic and multinational employers against wage and hour and fair employment practices lawsuits before New York federal and state courts
Successfully represented employers before local, state, and federal agencies including:

NYC Commission on Human Rights
NYC Department of Health and Mental Hygiene
NYC Office of Administrative Trials and Hearings
NYS Division of Human Rights
NYS Department of Labor
NYS Unemployment Insurance Appeals Board
NYS Industrial Board of Appeals
NYS Workers' Compensation Board
NYS Attorney General's Office
NYS Liquor Authority
NJ Department of Labor and Workforce Development
US Department of Labor
US Equal Employment Opportunity Commission
Professional Memberships and Activities
Labor and Employment Relations Association, New York City Chapter, President (2010-2011); Board of Directors, Member (2012-Present)
Hofstra Labor & Employment Law Journal, Alumni Advisory Board, Chair (2005-Present)
Hofstra University School of Law, Mentor (2012-Present)
Hofstra University College for Continuing Education, Prelaw Studies, Director (1992-1998)
Hofstra University Senate Task Force on Bias, Discrimination and Harassment, Pro Bono Consultant (1995-1998)
New York State Bar Association, Labor and Employment Law Section
New York City Bar Association, Labor and Employment Law Committee
American Bar Association
New York State Restaurant Association
New York City Hospitality Alliance
Society for Human Resource Management
Speeches
"Empire State Update: Key Trends for New York Employers," Ogletree Deakins Webinar, New York (May 2017)
"Recent Developments in New York, New Jersey, and Connecticut Employment Laws," Ogletree Deakins Seminar, New York (March 2017)
"Roundtable Discussion: Post-Cheeks Wage & Hour Settlements," Hofstra Labor & Employment Law Journal Symposium, moderator, New York (January 2017)
"New York Employers: Human Resources Update," Foundation for Accounting Education of the New York State Society for Certified Public Accountants, New York Chapter (October 2013)
"New York Restaurateurs: How Best to Comply with State and Federal Wage and Hour Laws and Regulations," American Dream Japanese Network (JaNet), New York (October 2013)
"New York Employers: How Best to Avoid Wage and Hour Audits and Lawsuits," New York Compensation Association, New York (September 2013)
"Ethical Issues in FLSA Cases," New York University 66th Annual Conference on Labor, panelist, New York (June 2013)
"New York Employers: How Best to Comply with Federal, State, and Local Fair Employment Practice Laws," American Dream Japanese Network (JaNet), New York (May 2013)
"New York Employers: Current Developments under Federal, State, and Local Employment Laws and Regulations," American Dream Japanese Network (JaNet), New York (March 2013)
"Hiring and Firing Employees: Complying with Local, State, and Federal Laws and Regulations," American Dream Japanese Network (JaNet), New York (July 2012)
"New York Restaurateurs: How Best to Comply with State and Federal Employment Laws and Regulations," American Dream Japanese Network (JaNet), New York (May 2012)
"New York Restaurateurs: How Best to Avoid Wage & Hour Audits and Lawsuits," Hofstra Labor & Employment Law Journal Symposium, moderator, Mineola (May 2012)
Media Quotes
"New York Finalizes Salary Threshold Increases," SHRM (December 30, 2016)
Publications
"Second Circuit Holds 'Delivery Fee' Is Not a Gratuity for Delivery Drivers," Ogletree Deakins Blog Post (March 13, 2020)
"Second Circuit Rejects Proportionality Standard in FLSA Settlement Agreements When Determining Attorneys' Fees," Ogletree Deakins Blog Post (February 18, 2020)
"New York Governor Vetoes Employee Wage Lien Bill," Ogletree Deakins Blog Post (January 10, 2020)
"New York State to End Subminimum Wage for Miscellaneous Industries," Ogletree Deakins Blog Post (January 7, 2020)
"New York City Legislation Protecting Gig Workers Heads to Mayor's Desk," Ogletree Deakins Blog Post (November 23, 2016)
RECOGNITION
New York Super Lawyers (2014)
Samuel M. Kaynard Award for Excellence in the Fields of Labor & Employment Law (2012)