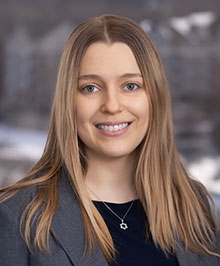 PRACTICES
Litigation
Matrimonial & Family Law
EDUCATION
J.D., Seton Hall University School of Law
B.A., Ramapo College of New Jersey
BAR ADMISSIONS
Lindsey de Stefan
Associate
CONTACT INFORMATION

V-Card
Lindsey de Stefan is an associate in the New Jersey Matrimonial and Family Law Practice at Phillips Nizer LLP.
Lindsey has served as a Judicial Law Clerk to the Honorable Jane Gallina-Mecca, J.S.C., in the Superior Court of New Jersey, Chancery Division, Family Part, where she worked on a variety of cases involving issues such as modification of alimony and child support, changes to custody and parenting time agreements and relocation. During her clerkship, Lindsey mediated family matters and Special Civil Part cases and was approved as a mediator by the New Jersey Judiciary Administrative Office of the Courts.
During law school, Lindsey served as a Judicial Intern to the Honorable Robert P. Contillo, P.J.Ch. (Ret.) and to the Honorable Gerald C. Escala, J.S.C. (Ret.), and was a Summer Associate at a New Jersey-based law firm specializing in Matrimonial and Family Law. She was an Associate Editor on the Seton Hall Law Review for two years, and authored a Comment published therein, entitled "'No Man Is Above the Law and No Man Is Below It': How Qualified Immunity Reform Could Create Accountability and Curb Widespread Police Misconduct," 87 Seton Hall L. Rev. 543 (2017).
Lindsey is a member of the Family Law Section of the New Jersey State Bar Association and devotes her practice entirely to Family Law matters.
Professional Memberships
Member, New Jersey State Bar Association
-
Member
, Family Law Section