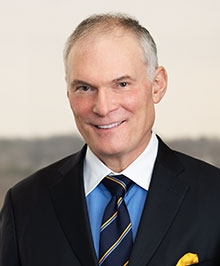 PRACTICES
Litigation
Appellate Practice
Real Estate
EDUCATION
University of Notre Dame, J.D.
Dartmouth College, A.B.

BAR ADMISSIONS
Supreme Court of the United States
United States Court of Appeals for the Federal Circuit
United States Court of Appeals for the Third Circuit
United States District Court for the District of New Jersey
United States District Court for the Eastern District of Pennsylvania
United States District Court for the Middle District of Pennsylvania
New Jersey
Pennsylvania
Ohio
Ernest W. Schoellkopff
Counsel
CONTACT INFORMATION

V-Card
Ernie Schoellkopff is a litigation attorney in the New Jersey office. A frequent appellate practitioner whose work has resulted in over 25 reported opinions, Ernie has handled a broad range of complex litigation involving business and real property valuation, health care organization and finance, e-commerce, product liability, commercial contracts and real estate (including land use and eminent domain). He also has provided insurance coverage advice and litigation services on policy, allocation, rescission, fraud and related issues.
Representative Matters
Condominium association assessment litigation.
Representation of commercial insurers in professional, media staffing industry, construction, environmental and other liability coverage disputes.
Coverage analysis for multiple governmental claims against opioid pharmaceutical distributors, nationwide state court and federal multidistrict litigation.
Analysis of former property owner, estate liability, innocent purchaser defense under CERCLA and NJ Spill Act; first-and third-party coverages.
Defense cost allocation models between covered and non-covered claims under directors and officers policy.
Abusive acts coverage opinions; litigation including appeals.
Deductible recovery suit following settlement of World Trade Center toxic tort claims.
Litigation and coverage opinions on scope of insurance policy exclusions for intentional and criminal acts.
Membership dissociation, favorable valuation of shareholder interests and intellectual property recovery for the development and management arm of a multi-state surgery center syndication.
Successful appeal and judgment on remand for increased valuation of beverage chain inventory in division and distribution of assets.
Summary judgment and frivolous claim costs award in defense of misrepresentation claim against commercial real estate vendors.
Fifth Amendment taking, due process and mineral rights valuation claims to restore rights of mining property owners following rezoning; successful appeal to Third Circuit.
Successful appeal and favorable construction of contractual indemnity for structural steel fabricator.
Winning appeal and dismissal of suit against individual guarantor of demand note with automatic acceleration clause.
Nationwide EIFS claim and insurance analysis for international chemical and materials manufacturer.
Judgment and award of damages on contractee's default and repudiation in development of satellite radio transmission system.
Representation of worldwide manufacturer in class-action home appliance defective material claims.
Defense and nuisance-value settlement of manufacturing defect claims against industrial fabric and coatings manufacturer in international billboard sign litigation.
Representation and judgment for various insurers in actions among carriers claiming indemnity for toxic tort (asbestos, Legionella), environmental, construction defect and interstate motor carrier claims.
Summary judgment and frivolous claim sanctions for independent cargo hauler against authorized carrier and insurer based on Carmack Amendment and anti-subrogation rule.
National trial and appellate brief drafting and legal argument coordination for shipbuilder's defense of toxic tort claims.
All aspects of eminent domain litigation to condemn over a hundred parcels of New Jersey development authority.
Representation of insurers/developers in regional real estate, contract and premises liability litigation.
Recovery of funds for process heating systems manufacturer following dishonor of international letter of credit by foreign bank.
Defense and dismissal of medical device claims against contact lens manufacturer.
Judgment for paint manufacturer on reactive airways dysfunction claims.
Judgment for producer of food wrapping machinery in repetitive stress injury product liability suit.
Prosecution and substantial settlements in blood product transfusion litigation.
Reversal on appeal of $15 million and other substantial verdicts in obstetrical and other health care malpractice actions.
Dismissal of claim against property insurer and judgment on counterclaim for fraud against policyholder in theft claim.