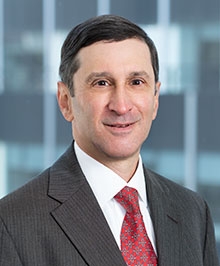 PRACTICES
Cooperative and Condominium Law
Real Estate
Litigation
EDUCATION
Fordham Law School, J.D.
Columbia College, A.B.
BAR ADMISSIONS
New York
U.S. District Ct., SDNY
U.S. District Ct., EDNY
U.S. Ct. of Appeals, 2nd Cir.
CONTACT INFORMATION

V-Card
Mark N. Axinn chairs the firm's Cooperative and Condominium practice and is a real estate partner in Phillips Nizer's New York office.
Mark's practice focuses on general representation of cooperative and condominium associations, sponsor/developers, holders of unsold shares and individual property owners and businesses.
Mark has over 35 years of experience drafting and closing offering plans to convert multi-family and mixed-use properties to cooperative and condominium ownership. He also has performed all aspects of conveyancing and financing real property, including apartment and commercial buildings, individual cooperative and condominium apartments, and blocks of unsold shares and units.
Mark has drafted, negotiated and coordinated the creation and transfers of commercial leaseholds including providing general and corporate advice to associations, investors, businesses, retail and office clients.
He also has extensive commercial litigation experience in both state and federal courts including all aspects of pre-trial motion practice, trials and appeals.
Mark served as Chair of the New York State Libertarian Party from 2010-2015.
Recent Articles