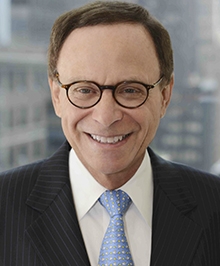 PRACTICES
Litigation
Appellate Practice
Environmental Law
Matrimonial & Family Law
Private Client Services
Entertainment
Land Use and Government Relations
Contractual Disputes
Partnership Disputes
EDUCATION
Cambridge University, Honors Diploma in Historical Studies
Harvard University, J.D.
Yale University, A.B., summa cum laude
BAR ADMISSIONS
New York
US Dist. Ct., SDNY
US Dist. Ct., EDNY
US Dist. Ct., WDNY
US Dist. Ct., NDNY
US Supreme Court
CONTACT INFORMATION

V-Card
​Martin B. Wasser, a litigation partner with a broad practice encompassing environmental law, matrimonial law, entertainment—music representations, and governmental relations, is the head of the Environmental Law Department. Prior to joining the law firm in 1977, Mr. Wasser was law clerk to Justice Robert C. Williams of the New York State Supreme Court. Between 1975 and 1977, he served as Special Assistant to the Commissioner of the New York State Department of Environmental Conservation.
Mr. Wasser has been involved in a national and international practice encompassing all aspects of environmental counseling and regulatory enforcement. His diversified practice has included enforcement litigation and appellate practice involving the Love Canal, Hyde Park and S-Area landfills in Niagara Falls, New York and permitting and litigation regarding the New York City-owned Fresh Kills landfill, the world's largest landfill, on Staten Island, New York. An experienced practitioner, he has been involved in significant multi-party CERCLA cases throughout the country, taking a lead role in negotiations with governmental entities and organizing and supervising alternative dispute resolution proceedings. He achieved a major victory in
Commander Oil Corp. v. Barlo Equipment Corp.
, 215 F.3d 321 (2d Cir.), cert denied, 531 U.S. 979 (2000), in which the Court of Appeals reversed an $850,000 damage award against a subtenant who was initially found liable as a Superfund owner. The decision established new precedent and guidelines governing the landlord-tenant relationship in the context of Superfund responsibility.
Mr. Wasser secured reimbursement from the federal government of more than $1.2 million in costs incurred to comply with a directed remedial action by successfully appealing a United States Coast Guard CERCLA § 106 administrative order before the EPA Environmental Appeals Board in Washington, D.C.
Mr. Wasser's matrimonial practice includes a variety of matters such as negotiation of separation and divorce agreements, prenuptial, postnuptial and cohabitation agreements, and child custody cases. He represents clients in courts throughout the State.
Mr. Wasser has also represented numerous individuals and companies involved in the music and entertainment industries, as well as prominent artists and galleries in the field of fine arts.
Mr. Wasser has lectured and written extensively and has served on the board of editors of the
Environmental Compliance & Litigation Strategy
newsletter.
Peer Review Rating
AV Preeminent Rated by Martindale-Hubbell
Professional Memberships
New York State Bar Association
RECOGNITION
The Best Lawyers in America© (Environmental - Litigation), (2018 - 2022)
Super Lawyers® - New York Metro Edition (Environmental), (2006, 2007, 2010 - 2021)
Super Lawyers® - Business Edition (Environmental Law), (2012)
American Lawyer Media, "Top Rated Lawyers Guide to Energy, Environmental & Natural Resources Law" (2012)