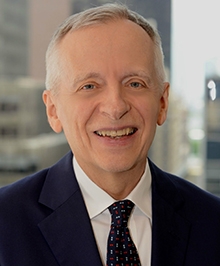 PRACTICES
Trusts and Estates
International
Tax
Immigration
Not-For-Profit
Private Client Services
EDUCATION
Columbia University School of Law, J.D.
Columbia University, M.I.A.
Yale University, Ph.D.
University of San Francisco, B.A.
BAR ADMISSIONS
New York
U.S. Dist. Ct., SDNY
U.S. Dist. Ct., EDNY
U.S. Supreme Court
Michael W. Galligan
Partner
CONTACT INFORMATION

V-Card
Michael W. Galligan is acting co-chair of the Trusts & Estates Department at Phillips Nizer LLP, where he practices primarily in the areas of domestic and international estates and trusts, U.S. and cross-border estate and income tax planning, private international law, and immigration.
Mr. Galligan concentrates his practice in complex U.S. and international estate planning and the administration of U.S. and non-U.S. trusts, estates and other wealth transfer and wealth preservation vehicles. In addition to clients who are U.S. citizens and residents with family members and property holdings located only in the United States, his clients include U.S. citizens and residents with property holdings abroad; non-U.S. citizens and residents who own property and invest in the United States; families whose members are citizens and residents of different countries and often own property in different countries; non-U.S. persons planning to become U.S. residents; and U.S. citizens and residents leaving the United States permanently or temporarily. He also represents individual and corporate fiduciaries in connection with these matters. With the assistance of qualified counsel in the relevant jurisdictions, Mr. Galligan has worked on cross-border wealth transfer, trust and succession projects involving well over thirty countries worldwide.
In connection with the international aspect of his practice, Mr. Galligan also advises clients on immigration law and directs Phillips Nizer's services to clients who need specialized assistance in obtaining or maintaining legal immigration status in the United States as well as close coordination of their immigration goals with their tax and estate planning objectives.
Mr. Galligan is a graduate of the Columbia University Law School (J.D., 1985), where he was an Editor of the Columbia Law Review and a Harlan Fiske Stone Scholar. He received his B.A. Degree from the University of San Francisco and also holds a Doctorate of Philosophy in Religious Studies from the Yale University Graduate School and a Master's Degree in International Affairs from the Columbia University School of Public and International Affairs.
Mr. Galligan regularly lectures and writes articles and reports in the area of domestic and international estate planning and administration, including:
"Cross-Atlantic Estate Planning", speaker, Annual Global Meeting of the NYSBA International Section (May 31, 2023)
"Double-Tax Treaties from a U.S. Perspective", speaker, Annual Meeting of the Intl Academy of Estate and Trust Law in Vienna, Austria (May 24, 2023)
"Working with US Estate Tax Treaties", speaker, Probate and Estate Planning Section of the Connecticut Bar Association (May 1, 2023)
"Challenges of Cross-Atlantic Estate Planning Panel," Co-Chair, Annual Global Meeting of the NYSBA International Section (October 2022)
"Forced Heirship" in U.S law and duties of a testamentary executor under New York State law, Speaker, Fourth International Property Law Day, University of Lausanne, Switzerland (September 2022)
"Issues Affecting Multinational Clients: Wills, Trusts and Cross Border Administration," Speaker, 13th Annual STEP International Tax and Estate Planning Forum (May 6, 2021)
"The Uses of Trusts in U.S. Estate Planning," author, Revue Internationale du Patrimoine (International Heritage Review), Issue 7 (March 1, 2021)
"Asian/North American Estate Planning for the Coming Decade," Panelist, New York State Bar Association International Section Global Conference (2019)
"A Century of Trust Law in Asia and In North America," Co-Chair, New York State Bar Association International Section Global Conference (2019)
"International Charitable Giving and Planning Under U.S. Tax Law," Tax Management Estates, Gifts and Trusts Journal (May – June 2004)
"Ten Important Points to Remember About International Estate Planning," New York State Bar Association International Law Practicum (Spring 2003)
"U.S. Trust Law and the Hague Convention on Trusts," New York State Bar Association Trusts and Estates Section Newsletter (Fall 2000)
"Foreign Trusts and U.S. Estate Planning: A Client-Centered Analysis," published in the Journal of Asset Protection (July/August 1999)
"Maintaining a Trust's U.S. Tax Status," New York Law Journal (March 24, 1999)
From 2014 to 2018, Mr. Galligan served as a member-at-large of the Executive Committee of the New York State Bar Association, the largest voluntary state bar association in the United States with over 75,000 members and continues to serve on the Association's Committee on Committees and its Committee on LGBT People and the Law. From 2009 to 2010, Mr. Galligan served as Chair of the International Section of the New York State Bar Association (NYSBA International), which counts among its members over 2,200 international legal practitioners from New York and around the world. He was a member of the NYSBA Task Force on New York Law in International Matters and a contributor to the Task Force's Report, which was approved by the NYSBA House of Delegates in June, 2011. He continues to actively support the "Three Missions" that the NYSBA International adopted during his chairmanship: (1) Custodian of New York Law as an international standard, (2) Guardian of the New York Convention on Arbitral Awards and the international arbitral process and (3) Monitor of international law developments in the United Nations system. In this connection, he has also authored:
Prior to joining Phillips Nizer as a member of the firm in 2000, Mr. Galligan practiced law in affiliation with two other distinguished New York law firms. In 1990, Mr. Galligan was a member of the delegation of the Committee on International Human Rights of the New York City Bar Association to Kosovo. A co-chair of the Committee on Asylum and Refugees of the American Immigration Law Association from 1989 to 1991, he was the principal author, with the late Arthur C. Helton, of the 1989 publication of the Lawyers Committee for Human Rights, "Immigration Options for Chinese Nationals." With the late Mr. Helton, he drafted, for the Human Rights Committee of the Russian Parliament, a Statement of Principles on Refugee Protection. Mr. Galligan was also a member of the team that developed pioneer legal instruments regarding health care decisions and health care agents for clients of the New York-based Gay Men's Health Crisis [GMHC] during the height of the AIDS crisis in the late 1980's.
Prior to commencing the practice of law, Mr. Galligan was a visiting professor in the faculty of theology at the Gregorian University in Rome from 1973-1976 and held several pastoral and administrative positions in the Roman Catholic Diocese of Santa Rosa in California from 1976 through the end of 1980. He is the author of God and Evil (Paulist Press, 1973).
Rankings and Ratings
Chambers and Partners, High Net Worth Edition (2016 - 2023)
The Best Lawyers in America© (2009 – 2022); Trusts and Estates)
Selected for inclusion in the Super Lawyers® - New York Metro Edition (Estate Planning & Probate; International and Immigration), (2006 - 2021)
Martindale-Hubbell (AV Preeminent Rated)
Who's Who Legal: Private Client (2014 - 2019)
Professional Memberships
American College of Trust and Estate Counsel (Fellow)
International Academy of Estate and Trust Law (Academician)
New York State Bar Association
The Society of Trust and Estate Practitioners (STEP)
New York City Bar Association
American Society of International Law
American Immigration Lawyers Association
New York International Arbitration Center
RECOGNITION
Woodrow Wilson Fellow
Berger Prize in International Law, Columbia University
Moses Gitelson Prize in International Affairs and Human Values, Columbia University