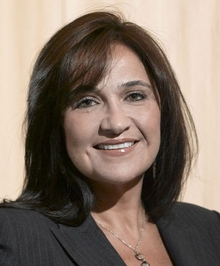 PRACTICES
Employment & Labor Law
ERISA and Employee Benefits
Restaurant, Food Service & Hospitality Group
Litigation
Commercial Arbitration
Employment Litigation
Contractual Disputes
Partnership Disputes
EDUCATION
Fordham University School of Law, J.D.
Iona College, B.B.A.
BAR ADMISSIONS
New York
Connecticut
U.S. District Ct., S.D.N.Y.
U.S. District Ct., E.D.N.Y.
CONTACT INFORMATION

V-Card
Regina E. Faul is a partner in and chairs the Employment & Labor Practice at Phillips Nizer LLP. She has distinguished herself for over 30 years representing clients in the areas of employment law and labor law. Her practice focuses on advising management clients on day-to-day employee relations, representing management in connection with collective bargaining, employment litigation, including wage and hour litigation, acting as insurance defense counsel, and conducting presentations and training for our clients' workforces.
General Employment Litigation
Regina has successfully defended clients before state and federal courts and in arbitration proceedings. She also has successfully resolved matters prior to trial through negotiated settlements. Her extensive experience includes litigation involving:
The Fair Labor Standards Act (FLSA)
New York Labor Laws
New York State and City Human Rights Laws
Title VII of the Civil Rights Act
The Occupational Safety and Health Act (OSHA)
The Americans with Disabilities Act (ADA)
Fair Housing Act
Regina proactively engages with employers regarding compliance with federal, state and city laws; drafting and implementing effective handbooks, policies and procedures; drafting and reviewing restrictive covenants; drafting and reviewing employment contracts and severance agreements; and workplace health and safety programs.
Wage & Hour
Wage and hour litigation has been a cornerstone of Regina's legal practice. She is frequently called upon by employers to advise companies in connection with:
Auditing company's labor relations policies and practices
Assessing company policies and procedures
Wage and hour compliance
Federal and New York Worker Adjustment Retraining Notification (WARN) Act
New York State Wage Theft Prevention Act
Providing effective and efficient counsel in implementing corrective action to avoid potential government investigations and class action litigation.
Training
Proactive and ongoing employer and employee training is a highly effective tool in preventing costly and, sometimes, contentious court proceedings. Regina creates individualized presentations and trainings for employers on workplace topics, including:
Harassment
Discrimination
Whistleblowers and retaliation
Investigating employee complaints
Employee discharge and discipline
Fair housing
Government subsidy programs
Social media policies
Various other workplace policies
Private Client and Insurance Defense
Regina has successfully defended private clients as well as acting as Insurance Defense Counsel (EPLI, D&O, E&O) for many national insurance carriers.
Unions and Collective Bargaining
Regina counsels business owners regarding dealings with unions and union benefit funds. She represents clients from the early stages of union organizing, to collective bargaining negotiations and navigating through collective bargaining agreements, including employee discipline, wage compliance, and staffing needs.
She defends and counsels clients in connection with ERISA litigation by multi-employer benefit funds to collect contributions or their assessment of withdrawal liability. She often works closely with members of our firm's Real Estate Practice representing owners and operators of hotels, residential apartment buildings and commercial buildings with respect to the labor and employment aspects of mergers and acquisitions, sales, reorganization and reductions in staffing.
Regina is frequently called upon as a commentator regarding local and federal labor and employment law. She was also elected to the College of Labor and Employment Lawyers as a Fellow, the highest recognition by one's colleagues of sustained outstanding performance in the profession, exemplifying integrity, dedication, and excellence.
Speaking Engagements:
ExecuSummit, Wage & Hour Conference (November 2019)
Phillips Nizer LLP Continuing Legal Education (CLE) Program, "Coping Healthily in the Legal Industry: Mental Health Issues That Affect Everyone (A program for practicing attorneys; November 2019 with Dr. Christian Heim)
Phillips Nizer LLP Continuing Legal Education (CLE) Program, "Righting Wrongs – Employers' Roles in Implementing Change After #MeToo (A program for practicing attorneys; November 28, 2018)
ExecuSummit, Wage & Hour Conference (November 2018)
Phillips Nizer LLP Executive Program, "Righting Wrongs – Employers' Roles in Implementing Change After #MeToo" (A program for business owners, company executives, human resources professionals, accountants and other business advisors; November 14, 2018)
Honors:
Fellow, College of Labor and Employment Lawyers (Class of 2020)
Super Lawyers® - New York Metro Edition (Employment & Labor) 2020, 2021, 2022
Crain's New York Business, 2018 Leading Women Lawyers (Inaugural list), 2020, 2021, 2022
Education:
Fordham University School of Law, J.D.
Iona University, B.B.A.
RECOGNITION
Fellow, College of Labor and Employment Lawyers (Class of 2020)
Super Lawyers® - New York Metro Edition (Employment & Labor) 2020, 2021
Crain's New York Business, Notable Women in Law (2018, 2020, 2022)