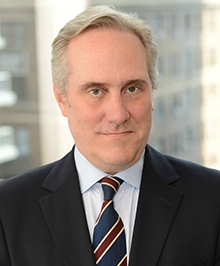 PRACTICES
Litigation
Creditors' Rights and Restructuring
Appellate Practice
Contractual Disputes
Partnership Disputes
Integrity Oversight & Investigations
EDUCATION
Tulane University School of Law, J.D., cum laude
Columbia College, B.A.
BAR ADMISSIONS
New York
District of Columbia
U.S. District Ct., SDNY
U.S. District Ct., EDNY
U.S. Court of Appeals, 2nd Cir.
U.S. Court of Appeals, 9th Cir.
CONTACT INFORMATION

V-Card
Representing a former executive in connection with a multi-jurisdictional securities fraud litigation.

Represented a significant judgment creditor in the Chapter 15 proceedings of a large Indian textile conglomerate, resulting in a consensual order of recognition that, among other things, implemented the settlement of the creditor's claims.

Represented an ad hoc bondholder group challenging recognition in the Chapter 15 proceedings of a large Brazilian construction group.

Represented major secured creditor in the City of Detroit Bankruptcy (Law360, 4/11/14, "Detroit's $85M UBS, Merrill Lynch Swaps Deal Wins Approval").

Represented multiple defendants in "clawback" litigation brought by the Trustee of Bernard L. Madoff Investment Securities LLC.

Obtained judgment for Hyundai Engineering against Republic of Iraq and Central Bank of Iraq in connection with construction and funding of a power station in Iraq (794 N.Y.S. 2d 327 (1st Dept. 2005); 2003 WL 22251349 (S.D.N.Y)).

Represented the plan administrators in the Refco Inc. Chapter 11 cases, including the prosecution of claims objections and avoidance actions.

Represented the Official Committee of Unsecured Creditors of LandAmerica Financial Group and the LFG Liquidation Trust (470 B.R. 759). This matter included the pursuit of breach of duty claims against former officers and directors.

Represented major creditors in the bankruptcy cases of Lehman Brothers, General Motors, Delta, Delphi, Enron and Lyondell Chemical, including matters involving the prosecution of claims and the defense of fraudulent conveyance actions and claims objections.