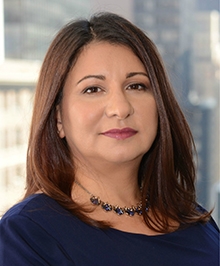 PRACTICES
Guardianship
Matrimonial & Family Law
Litigation
Appellate Practice
Intellectual Property
Copyright
Trademark
Contractual Disputes
Partnership Disputes
EDUCATION
Hamline Univ. School of Law, J.D., summa cum laude
Macalester College, B.A.
BAR ADMISSIONS
New York
U.S. District Ct., SDNY
U.S. District Ct., EDNY
Elizabeth A. Adinolfi
Partner
CONTACT INFORMATION

V-Card
Elizabeth Adinolfi is a partner in Phillips Nizer's Litigation and Matrimonial Law Practices. She has represented clients in federal and state courts at all stages of legal action from initiation through the appellate process. Consequently, her representative matters have been diverse, from obtaining and having upheld by the Second Circuit Court of Appeals an unprecedented global permanent injunction protecting a major fashion house's trademark rights, to negotiating settlement agreements in matrimonial and family law matters, to providing counsel in complex guardianship proceedings. Liz has taken the skills she has honed as a litigator and now uses them to assist individuals and families in crisis.
Guardianship
Recognizing that the family dynamics and conflicts that develop in the wake of a divorce manifest themselves later in life when the care of an elderly spouse, parent, or sibling becomes an issue, Liz has expanded her practice to include Article 81 guardianship proceedings. Liz has received certified training as required by the New York State Unified Court System's Office of Guardian and Fiduciary Services for the purpose of serving as a Court Evaluator, Guardian, attorney for a Guardian, and attorney for an Alleged Incapacitated Person in Article 81 guardianship proceedings. Through both judicial appointments and private clients, Liz has served as Court Evaluator, and counsel to guardians, high-net-worth individuals alleged to be incapacitated, and family members in complex guardianship proceedings. Liz recently presented a CLE program on the Britney Spears Conservatorship for the New York Bar Association, "Conservatorship: What If Britney Spears Resided In New York State? What New York Lawyers Should Know." The three-hour program was covered by media outlets, including
The New York Law Journal
. Liz is frequently called upon to comment on guardianship and conservatorship issues.
Family and Matrimonial Law
Liz's practice in this area includes representing clients in divorce, child custody, spousal and child support, and paternity proceedings. Recognizing that divorce and separation are life-changing experiences that can be fraught with challenges, Liz is highly sensitive to the needs of children who may be involved, and works diligently to negotiate amicable settlements whenever possible. Every effort is made to handle negotiations of spousal maintenance, child support and division of assets, including real estate, art, automobiles, jewelry and investments with fairness and pragmatism.
General Litigation
In her general litigation practice, Liz has represented clients in fashion and luxury goods, real estate, and banking industries. She has significant experience in the use of technology to facilitate litigation and the legal and technological issues particular to identifying, collecting and producing electronically-stored information in response to lawsuits and investigations.
Appellate Practice
Liz has extensive experience in New York appellate courts, particularly the Appellate Division, First Department. In addition to preparing and arguing appeals, Liz is well versed in appellate motion practice, and has succeeded in using motion practice to have appeals against her clients dismissed and to obtain stays of further proceedings pending the resolution of appeals.
Pro Bono
Liz has an active pro bono practice where she is particularly drawn to the underserved. In 2004, she was honored with the "Award for Excellence in Pro Bono Advocacy" by Sanctuary for Family Center for Battered Women's Legal Services. She was honored for her "extraordinary work" relating to two cases on behalf of the Center's clients after having provided appellate representation on their behalf. Liz has also been involved in the representation of a coalition of parents opposing the co-location of a charter school in their children's public school building. Liz is a member of the Associate Board of Directors of Family-to-Family, Inc., a national grassroots nonprofit 501(c)(3) hunger and poverty relief organization dedicated to providing food, personal hygiene products and other basic life essentials to American families struggling with the challenges of poverty.
Liz received her B.A. from Macalester College. She received her J.D., summa cum laude, from Hamline University School of Law, where she received the M. Arnold Lyons Award for Highest Academic Performance in the Graduating Class and the Ronald C. Elmquist Award for Outstanding Performance in Wills and Trusts.
Prior to joining Phillips Nizer, Liz clerked for the Honorable Russell A. Anderson of the Minnesota Supreme Court and was an associate with the firm of Skadden, Arps, Slate, Meagher & Flom LLP in New York. She is licensed to practice in New York.
Professional Memberships
New York State Bar Association (Co-Chair, Guardianship Committee)
RECOGNITION
Crain's New York Business Notable Women in Law (2022)
Sanctuary for Families Center for Battered Women's Legal Services - Award for Excellence in Pro Bono Advocacy (2004).
Hamline Univ. School of Law - The M. Arnold Lyons Award for Highest Academic Performance in the Graduating Class.
Hamline Univ. School of Law - The Ronald C. Elmquist Award for Outstanding Performance in Wills and Trusts.