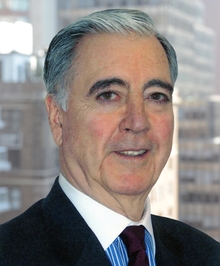 PRACTICES
Land Use and Government Relations
Real Estate and Governmental Relations
Real Estate
Integrity Oversight & Investigations
Property Tax Certiorari
Restaurant, Food Service & Hospitality Group
EDUCATION
​Fordham University School of Law, J.D.
St. Michael's College and Villanova University, B.S.
BAR ADMISSIONS
New York
U.S. Dist. Ct., SDNY
CONTACT INFORMATION

V-Card
​Kevin B. McGrath co-chairs the firm's Land Use & Government Relations Practice and is a member of the Real Estate Practice. Mr. McGrath focuses on matters relating to New York City Government, and all aspects of real estate, planning and zoning issues, with substantial experience in the area of property tax certiorari. Mr. McGrath has amassed significant insights into the New York real estate industry in his over 40 years of legal practice, and helped shape the skyline of New York.
Prior to joining Phillips Nizer, Mr. McGrath was a partner at two New York law firms. Mr. McGrath was a protégé of the late New York City legal legend William A. Shea, at which time he headed Shea & Gould's New York City Administrative and Governmental Law Section. During his legal career, Mr. McGrath has served as an advisor to both former New York Governor Hugh Carey and former New York City Mayor Abraham D. Beame. Mr. McGrath was a Contributing Author to New York Civil Practice (Text SCPA) by Cox, Arenson and Medina, 1974 and a Lecturer with the Practising Law Institute.
Mr. McGrath has been involved in Zoning variances before the Board of Standards & Appeals and the Landmarks Preservation Commission on matters involving The Palace Hotel, The American Home Products Building, Alexander's mall in Rego Park, Goldman Sachs New York City Corporate Headquarters, Queens Crossing, WayWest Development Corporation and the Jane Street Development. Recently his appearance before the New York City Board of Standards and Appeal involved requested relief relating to bulk, use and parking variances and special permits for fitness centers (Adult Physical Cultural Establishments) and parking.
Lobbying
Mr. McGrath was a registered lobbyist in New York City and New York State.
Liquor Licensing & Alcoholic Beverage Control
In addition to lecturing on the New York State Alcohol Beverage Law and Liquor Authority practices, Mr. McGrath has represented a varied group of applicants before the State Liquor Authority. His practice before the New York State Liquor Authority in obtaining both temporary, permanent and seasonal licenses for retail and on-premises consumption establishments, transfer of an existing license (temporary permit), as well as cabaret licenses from the New York City Department of Consumer Affairs, has spanned more than thirty years.. He assists both clients and architects in preparing applications and obtaining approval for the operation of sidewalk cafes. He also represents clients in matters involving alleged misconduct and violations of the New York State Alcoholic Beverage Control Law.
Mr. McGrath is involved in transactional real estate and has represented clients in condemnation proceedings initiated by the City of New York, State of New York and quasi governmental agencies in New York State.
New York City Department of Finance, Tax Commission - Tax Certiorari
In his tax certiorari practice, Mr. McGrath has obtained some of the City's largest real estate tax reductions for multi-million dollar property owners, developers, and managers of commercial, retail and residential buildings. Besides having a client list which includes Circle Line Yachts, Cablevision, Madison Square Garden, Pyramid Management Group, Vornado Realty Trust, and Metromedia.
New York City Department of Finance, Division of Land Records, Tax Map Unit
Created a procedure by using management skills and sharp legal acumen in filling multiple documents and surveys for Condominium Apportionment and Approval of split lots and mergers. Review the maps from the architect and make sure map complies with the Tax Map Unit guidelines. Discussions with Tax Map Unit's surveyor's office and work closely with the surveyor to file all necessary documents for apportionment.
New York City Planning Commission - Real Estate and Zoning Matters
Effectively outline property's designated zone, special district and research New York City Department of City Planning Zoning Resolution to determine if project complies with the requirements of the Zoning Resolution based on the property's zoning information. Conducted detailed real estate zoning analysis for over 500 properties and advised of the New York City Zoning rules and regulations and the developmental opportunities of their property. Made numerous appearances before New York City Planning Commission with respect to various zoning issues, recently including but not limited to commercial buildings such as the Trump Tower on Fifth Avenue and Trump World Plaza on First Avenue, Prince Street and Flushing Mall on Main Street, Flushing, NY.
New York City Landmarks Commission
Appear before Counsel and staff of NYC Landmarks Commission. Meetings with respect to renovating buildings in a Landmark District. Including but not limited to the Villard Houses - New York Plaza Hotel, 72 Grand Street and Beekman and Eastgate Towers.
New York City Board of Standards and Appeal ("BSA")
Appear before the New York State Board of Standards and Appeal with respect to reviewing files for various cases including but not limited to A cases, Variance application cases with respect to Main Street, Flushing, NY 39 Prince Realty, Pearl Realty, 123 Third Avenue.
He has appeared before virtually every New York City agency as well as the New York City Planning Commission.
Mr. McGrath has served as a member of, and sits on numerous committees for various local organizations and businesses, including the Regional Board of Directors of the Bank of New York, and the Board of Directors of the Children's Museum of Manhattan. He has served on the Board of Directors of Inward House and as a Trustee for the Pension Fund for the Employees of Inward House for over 20 years and the Board of Managers of 157th Street Condominium.
Peer Review Rating
AV Preeminent Rated by Martindale-Hubbell
Professional Memberships
Association of the Bar of the City of New York
Bronx Bar Association
New York State Bar Association
American Bar Association