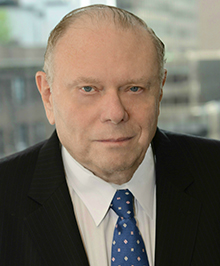 PRACTICES
Litigation
Commercial Arbitration
Appellate Practice
Technology
Antitrust and Unfair Competition
Intellectual Property, Fashion and Entertainment
Copyright
Trademark
Licensing
International
Antitrust and Unfair Competition
Contractual Disputes
Partnership Disputes
EDUCATION
​University of Virginia School of Law, JD
Dartmouth College, AB, magna cum laude
BAR ADMISSIONS
New York
U.S. Supreme Court
U.S. Ct. of Appeals, 2nd Cir.
U.S. Ct. of Appeals, 5th Cir.
U.S. Ct. of Appeals, District of Columbia Cir.
U.S. District Ct., SDNY
U.S. District Ct. EDNY
Thomas G. Jackson
Partner
CONTACT INFORMATION

V-Card
Media - ​Law360 quotes partner and head of Technology Practice, Thomas "Tom" Jackson, in the article, "EU Privacy Shield Gets Good Marks, For Now," published today.

10/19/2017

Two years ago, the Court of Justice of the European Union found that the agreement between the U.S. and EU known as the Safe Harbor framework, under which personal data could be transmitted outside the EU, did not offer adequate protection, and was therefore invalid. The EU-U.S. Privacy Shield framework, which was accepted by the EU last year, is intended to provide greater protection for the personal data of EU citizens exported to the U.S. Today, Google, Facebook, Microsoft and over 2,400 other major companies rely upon the protection that certification under the Privacy Shield affords them in processing the personal information of EU citizens in the U.S. Last week, the European Commission published the first annual report on how well the Privacy Shield is working.

Super Lawyers® (2017)

09/20/2017

It was announced on September 20, 2017, that seventeen Phillips Nizer attorneys were selected for inclusion on the 2017 Super Lawyers and 'Rising Stars' lists. Alternative Dispute Resolution, Banking, Business Litigation, Entertainment, Intellectual Property, and Trusts & Estates practices were represented.

Super Lawyers® (2016)

10/21/2016

On September 21, 2016 it was announced by Super Lawyers® that twenty-three Phillips Nizer attorney were selected for inclusion on the 2016 Super Lawyers and 'Rising Stars' lists. This is the second consecutive year the firm has had twenty-three lawyers recognized.

Super Lawyers® (2015)

10/01/2014

Phillips Nizer was honored to announce that twenty-three of its attorneys were recognized as 2015 Super Lawyers® and Rising Stars. Attorneys who were recognized represented over a dozen practice areas. The annual Super Lawyers® lists are a result of confidential peer review and independent research.