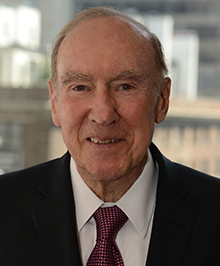 PRACTICES
Employment & Labor Law
Litigation
Commercial Arbitration
Appellate Practice
Employment Litigation
ERISA and Employee Benefits
Contractual Disputes
Partnership Disputes
Fashion
EDUCATION
​Columbia Law School, J.D.
Harvard University, A.B.
BAR ADMISSIONS
Massachusetts
New York
U.S. Supreme Court
U.S. Court of Appeals for the 1st, 2nd, 3rd, 4th and 9th Circuits
U.S. District Court for the Districts of Colorado, Massachusetts and Ohio
U.S. Dist. Ct., EDNY
U.S. Dist. Ct., NDNY
U.S. Dist. Ct., SDNY
Evan J. Spelfogel
Senior Counsel
CONTACT INFORMATION

V-Card
The New York Health and Essential Rights (HERO) Act

05/09/2021

On May 5, 2021, Governor Andrew Cuomo signed into law the New York Health and Essential Rights Act (NY HERO Act), which is intended to protect workers from airborne infectious diseases in the workplace. The law will require employers to comply with minimum standards for workplace safety, which are to be developed, implemented and enforced by the NYS Department of Labor (NYSDOL) and the New York Department of Health (NYSDOH). These standards, once implemented, will address testing, PPE, social distancing, hand hygiene, disinfection, and engineering controls.




PN Practical News - The Biden Labor Agenda - April 2021

04/28/2021

When former Boston Mayor and construction trades union member and leader Marty Walsh was confirmed as the 29th U.S. Secretary of Labor on March 22, 2021, he became the first union member Secretary since the 1970s. Walsh's background, priorities and experience point to a significantly more pro-labor agenda than in recent years, and early action on a number of major labor initiatives, including rollbacks of Trump labor regulations.

U.S. News-Best Lawyers® (2021)

11/05/2020

U.S. News - BestLawyers® recognized Phillips Nizer LLP as one of the nation's "Best Law Firms" for 2021. The annual rankings are presented in three tiers. A total of eleven areas of the firm's practice were recognized nationally and in the New York City metropolitan area. The rankings were announced on November 5, 2020.

Upcoming CLE Program - Employment and Labor Law Senior Counsel, Evan Spelfogel, who is a Fellow of the College of Labor and Employment Lawyers, moderates a 3-hour human rights Continuing Legal Education Program (CLE) on May 14, 2019 | Details

05/14/2019

On Tuesday, May 14, 2019 at 5:30 p.m., the College of Labor and Employment Lawyers hosts a 3-hour Continuing Legal Education (CLE) program on the #MeToo movement, workplace sex discrimination and recently enacted New York State and New York City requirements concerning mandatory sexual harassment workplace training.

Guest Speakers: Caroline Downey, General Counsel, New York State Division of Human Rights, and Dana Sussman, Deputy Commissioner, New York City Commission on Human Rights.

This event will be held at the law firm of Seyfarth Shaw in New York City. The cost of attendance is $50.00. 3.5 CLE credits will be available.

Credit Card Payments: here

Select: REGIONAL MEETING EVENTS, and enter the amount: $50.00. In MEMO line, please note: "2nd Cir. Mtg on 5/14/19"

Registration information and questions to:

Evan Spelfogel

:

espelfogel@phillipsnizer.com

Super Lawyers® (2018)

09/13/2018

Seventeen Phillips Nizer attorneys were announced on September 13, 2018 as selected for inclusion on the 2018 New York Metro Super Lawyers and Rising Stars lists. Attorneys represented a cross-section of several practice areas and industry teams.

U.S. News - BestLawyers® (2019)

08/15/2018

Best Lawyers® recognized Alan Behr, Helene M. Freeman, Michael W. Galligan, Donald P. Perry, Evan J. Spelfogel, Martin B. Wasser and Elliot J. Wiener.