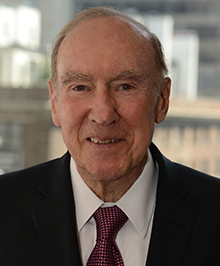 PRACTICES
Employment & Labor Law
Litigation
Commercial Arbitration
Appellate Practice
Employment Litigation
ERISA and Employee Benefits
Contractual Disputes
Partnership Disputes
Fashion
EDUCATION
​Columbia Law School, J.D.
Harvard University, A.B.
BAR ADMISSIONS
New York
Massachusetts
U.S. Supreme Court
U.S. Court of Appeals for the 1st, 2nd, 3rd, 4th and 9th Circuits
U.S. District Court for the Districts of Colorado, Massachusetts and Ohio
U.S. Dist. Ct., EDNY
U.S. Dist. Ct., NDNY
U.S. Dist. Ct., SDNY
Evan J. Spelfogel
Senior Counsel
CONTACT INFORMATION

V-Card
New York City Bans Discrimination Based on Height or Weight

11/22/2023

Effective Wednesday, November 22, 2023, the New York City Human Rights Law ("NYCHRL") has been amended to prohibit discrimination based on height or weight in employment, housing, and public accommodations. New York City now joins the following seven jurisdictions that include height and weight as classifications protected from unlawful discrimination and harassment:

(1) Binghamton, New York; (2) San Francisco, California; (3) Santa Cruz, California; (4) Washington, D.C.; (5) Urbana, Illinois; (6) Madison, Wisconsin; and (7) the State of Michigan. Similar legislation presently is pending in New York State, New Jersey, Massachusetts, and Vermont.

Is Your Handbook a Liability? New Standards for Workplace Rules, Policies and Procedures

11/20/2023

As we get closer to 2024, employers should consider a review of employment practices and rules for the new year. This is especially so given the National Labor Relations Board's ("NLRB") decision this year in Stericycle, Inc., 372 NLRB 113 (2023). In Stericycle, the NLRB laid out a new legal standard for the evaluation of work rules, adopting a case-by-case review. Stericycle overrules the categorical approach contained in The Boeing Co., 365 NLRB 154 (2017) and revises the standard in Lutheran Heritage Village-Livonia, 343 NLRB 646 (2004), presenting a change to a more employee-friendly approach to the evaluation of work rules.

New York State Pay Transparency Law Takes Effect September 17, 2023

09/15/2023

Effective September 17, 2023, New York employers with four or more employees must comply with certain statutory disclosure requirements when advertising for positions physically within and some outside the workplace or office. The law applies to advertising for available jobs, promotions, and transfer opportunities. "Covered employers" also includes employment agents, agencies, and recruiters regardless of size, excepting temporary help firms. "Advertise" is defined as "to make available to a pool of potential applicants for internal or public viewing, including electronically, a written description of an employment opportunity."

The New York Health and Essential Rights (HERO) Act

05/09/2021

On May 5, 2021, Governor Andrew Cuomo signed into law the New York Health and Essential Rights Act (NY HERO Act), which is intended to protect workers from airborne infectious diseases in the workplace. The law will require employers to comply with minimum standards for workplace safety, which are to be developed, implemented and enforced by the NYS Department of Labor (NYSDOL) and the New York Department of Health (NYSDOH). These standards, once implemented, will address testing, PPE, social distancing, hand hygiene, disinfection, and engineering controls.




PN Practical News - The Biden Labor Agenda - April 2021

04/28/2021

When former Boston Mayor and construction trades union member and leader Marty Walsh was confirmed as the 29th U.S. Secretary of Labor on March 22, 2021, he became the first union member Secretary since the 1970s. Walsh's background, priorities and experience point to a significantly more pro-labor agenda than in recent years, and early action on a number of major labor initiatives, including rollbacks of Trump labor regulations.

U.S. News-Best Lawyers® (2021)

11/05/2020

U.S. News - BestLawyers® recognized Phillips Nizer LLP as one of the nation's "Best Law Firms" for 2021. The annual rankings are presented in three tiers. A total of eleven areas of the firm's practice were recognized nationally and in the New York City metropolitan area. The rankings were announced on November 5, 2020.

Upcoming CLE Program - Employment and Labor Law Senior Counsel, Evan Spelfogel, who is a Fellow of the College of Labor and Employment Lawyers, moderates a 3-hour human rights Continuing Legal Education Program (CLE) on May 14, 2019 | Details

05/14/2019

On Tuesday, May 14, 2019 at 5:30 p.m., the College of Labor and Employment Lawyers hosts a 3-hour Continuing Legal Education (CLE) program on the #MeToo movement, workplace sex discrimination and recently enacted New York State and New York City requirements concerning mandatory sexual harassment workplace training.

Guest Speakers: Caroline Downey, General Counsel, New York State Division of Human Rights, and Dana Sussman, Deputy Commissioner, New York City Commission on Human Rights.


Super Lawyers® (2018)

09/13/2018

Seventeen Phillips Nizer attorneys were announced on September 13, 2018 as selected for inclusion on the 2018 New York Metro Super Lawyers and Rising Stars lists. Attorneys represented a cross-section of several practice areas and industry teams.

U.S. News - BestLawyers® (2019)

08/15/2018

Best Lawyers® recognized Alan Behr, Helene M. Freeman, Michael W. Galligan, Donald P. Perry, Evan J. Spelfogel, Martin B. Wasser and Elliot J. Wiener.