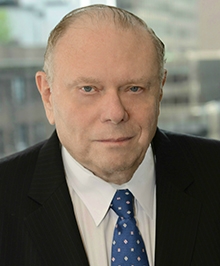 PRACTICES
Litigation
Commercial Arbitration
Appellate Practice
Technology
Antitrust and Unfair Competition
Intellectual Property
Copyright
Trademark
Licensing
International
Antitrust and Unfair Competition
Contractual Disputes
Partnership Disputes
EDUCATION
​University of Virginia School of Law, J.D.
Dartmouth College, A.B., magna cum laude
BAR ADMISSIONS
New York
U.S. Supreme Court
U.S. Ct. of Appeals, 2nd Cir.
U.S. Ct. of Appeals, 5th Cir.
U.S. Ct. of Appeals, District of Columbia Cir.
U.S. District Ct., SDNY
U.S. District Ct. EDNY
Thomas G. Jackson
Partner
CONTACT INFORMATION

V-Card
Thomas Jackson, Chair of the Technology Practice, named to the Bloomberg Law Litigation Innovation Board

01/03/2020 | https://pro.bloomberglaw.com/bloomberg-law-innovation-boards/

The board, consisting of twenty renowned litigators, is responsible for providing input and consulting on new products, offering feedback on enhancements to current offerings, and giving its advice on the direction of future litigation and analytics solutions to Bloomberg Law, a leading provider of subscription-based services for online legal research.

Media - Thomas Jackson, Chair of the Technology Practice, is quoted in "Challenges Facing Hospitality In the Next Five Years - An Inhospitable Environment" published in the D/SRUPTION Magazine

report, The Future of Hospitality. | Read here

04/24/2019 | D/SRUPTION Magazine

To read the full Hospitality Report, click here.

Thomas Jackson, partner at Phillips Nizer LLP, explains that the industry's extraordinarily rich data market brings with it a much higher risk of identity theft. This is particularly the case, he says, "when the breach involves dates of birth, passport numbers, travel itineraries, and other kinds of discrete data that one would not expect to see in a typical payment system."

Media - Law360 quotes Thomas Jackson in "Yahoo Breach Deal's Failure Shows Vagueness Doesn't Pay," highlighting a U.S. District Court refusal to approve a $50 million data breach deal between Yahoo! and its users. (Subscription Required)

02/11/2019 | Law360

Excerpt:

"Central to the concerns Judge Koh is raising is why it took 143 attorneys from 32 firms to file a complaint, oppose a stay, oppose a demurrer and file a motion for class action certification, and how that work could conceivably justify an award, on average, of over a million dollars for each of the firms...the court in its decision painted a picture of Yahoo as the poster child for bad behavior...It took particular pains to point out that Yahoo's estimate for settlement purposes of the number of accounts affected was not accurate, as well as other misdeeds, including Yahoo's denial in public filings that it knew anything about unauthorized access to personal data, its withholding of information and its delay, in some cases for a period of years, in notifying users of something it had contemporaneous knowledge of, leaving them in the dark as far as any actions they needed to take to protect themselves against the potential misuse of the compromised data."

Media - D/SRUPTION quotes Thomas Jackson in "The Behavioural Data Dilemma: Companies are under pressure to behave with behavioural data" (December 18, 2018)

12/18/2018 | D/SRUPTION

Excerpt:

"...Numerous high profile businesses have been criticised for misusing information. Only this month, Google was forced to admit that a bug in the Google+ API had allowed third party app developers to access not only the data of consenting Google+ users, but also of their friends. Google failed to conduct good data practice, which is damning enough. On top of that, the company found out about the bug in March and kept it under wraps until the Wall Street Journal called them out. According to Thomas Jackson, partner at Phillips Nizer LLP and technology law expert, Google hid the discovery to avoid being compared with the Facebook Cambridge Analytica scandal.


"There are differences, of course...Much of the outrage following the Cambridge Analytica episode resulted from the fact that a personality test was used to collect personal data which, unbeknownst to Facebook users, gave a third party access to their personal information, and was collected for use in a political campaign. In Google's case, what actual use was made of the data by outside developers, at least at this point, apparently is unknown. Undoubtedly it will prove to be far worse for Google that it chose to cover up what it had learned rather than disclose it in timely fashion and announce what steps it had taken to prevent the problem from occurring in the future.""

Media - Thomas Jackson, chair of the technology practice, quoted in an article in TechNewsWorld about Quora data breach | Read the article

12/05/2018 | TechNewsWorld

Tom addresses the breach of the Quora question-and-answer website that exposed the names, e-mail addresses, hashed passwords and non-public content of over 100,000 users, including messages and answer sent privately to other users.

"Since this is a knowledge-sharing platform, one of the risks of an incident like this is it could deter people from engaging in that kind of activity, which is productive and useful...In the Quora case, the main issue is going to be the willingness of inviduals to contribute going forward. Will it have a negative effect on postings and new signups?"

Media - ​Law360 quotes partner and head of Technology Practice, Thomas Jackson, in the article, "EU Privacy Shield Gets Good Marks, For Now." (Subscription Required)

10/19/2017

Two years ago, the Court of Justice of the European Union found that the agreement between the U.S. and EU known as the Safe Harbor framework, under which personal data could be transmitted outside the EU, did not offer adequate protection, and was therefore invalid. The EU-U.S. Privacy Shield framework, which was accepted by the EU last year, is intended to provide greater protection for the personal data of EU citizens exported to the U.S. Today, Google, Facebook, Microsoft and over 2,400 other major companies rely upon the protection that certification under the Privacy Shield affords them in processing the personal information of EU citizens in the U.S. Last week, the European Commission published the first annual report on how well the Privacy Shield is working.

Tom's quote:

"The [European Commission's] recommendations will do little or nothing to assuage the concerns of privacy advocates that the [Shield's] privacy safeguards are inadequate..."

Law360 subscribers, read the article

here

.

Super Lawyers® (2017)

09/20/2017

It was announced on September 20, 2017, that sixteen Phillips Nizer attorneys were selected for inclusion on the 2017 Super Lawyers list. Alternative Dispute Resolution, Banking, Business Litigation, Entertainment, Intellectual Property, and Trusts & Estates practices were represented.

Super Lawyers® (2016)

10/21/2016

On September 21, 2016 it was announced by Super Lawyers® that twenty-three Phillips Nizer attorney were selected for inclusion on the 2016 Super Lawyers and 'Rising Stars' lists. This is the second consecutive year the firm has had twenty-three lawyers recognized.

Super Lawyers® (2015)

10/01/2014

Phillips Nizer was honored to announce that twenty-three of its attorneys were recognized as 2015 Super Lawyers® and Rising Stars. Attorneys who were recognized represented over a dozen practice areas. The annual Super Lawyers® lists are a result of confidential peer review and independent research.