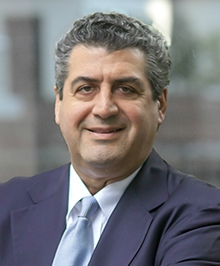 PRACTICES
Real Estate and Governmental Relations
Real Estate
Banking & Finance
Corporate & Business Law
Entertainment
Fashion
Not-For-Profit
Israel Practice
Israel Practice (Hebrew)
Private Client Services
International
EDUCATION
New York University School of Law, LL.M (Taxation)

University of Pennsylvania Law School, J.D.

Princeton University, A.B.
BAR ADMISSIONS
New York
New Jersey
District of Columbia
Marc A. Landis
Managing Partner
CONTACT INFORMATION

V-Card
Phillips Nizer Expands Voting Rights in NYC

11/08/2022

Today, the Special Term for Election Matters of New York State Supreme Court, New York County issued a decision in a petition brought pro bono publico by Phillips Nizer LLP on behalf of former Federal prisoners who were released to home confinement under the Federal "CARES Act".

Phillips Nizer Represents Light Nation Media In Suit Against Dr. Oz Campaign

11/07/2022

Light Nation Media LLC, a New Jersey consulting and fundraising firm, on Friday filed a lawsuit against Doctor Oz for Senate in New Jersey Federal court, alleging that Oz's campaign breached a contract in order to gain access to a pool of American Jewish campaign donors without compensation.

Marc Landis Named Vice President of Ally Law Executive Board During the 2022 AGM Meeting in Geneva

05/26/2022

At the 2022 Ally Law AGM meeting in Switzerland which brought together Ally Law's member firms, Phillips Nizer managing partner Marc Landis was elected Vice President of the Ally Law Executive Board. In addition, partners Karen Monroe and Regina Faul presented at the event. Regina facilitated a table topic on the subject of returning to work/office and an employers efforts/challenges to balance its needs and the needs of employees.


The New York Health and Essential Rights (HERO) Act

05/09/2021

On May 5, 2021, Governor Andrew Cuomo signed into law the New York Health and Essential Rights Act (NY HERO Act), which is intended to protect workers from airborne infectious diseases in the workplace. The law will require employers to comply with minimum standards for workplace safety, which are to be developed, implemented and enforced by the NYS Department of Labor (NYSDOL) and the New York Department of Health (NYSDOH). These standards, once implemented, will address testing, PPE, social distancing, hand hygiene, disinfection, and engineering controls.




U.S. News-Best Lawyers® (2021)

11/05/2020

U.S. News - BestLawyers® recognized Phillips Nizer LLP as one of the nation's "Best Law Firms" for 2021. The annual rankings are presented in three tiers. A total of eleven areas of the firm's practice were recognized nationally and in the New York City metropolitan area. The rankings were announced on November 5, 2020.

Phillips Nizer Managing Partner Marc Landis is quoted in Law360 article: Law Firm Succession Ins't New, So Why Is It So Hard?

05/22/2020

As the firms are plotting their future, Marc Landis, managing partner of roughly 70-lawyer Phillips Nizer LLP, wanted to remind the firm leaders that succession planning is not a "one-time exercise."

The New York-based firm, which was founded in 1926 by attorneys Louis Phillips and Louis Nizer, has already gone through several generations of leaders, Landis said.

"Succession planning, particularly in the law firm setting, is very much an art rather than a science," Landis said. "The relationships among attorneys at a firm, relationships between attorneys and clients, are all very personal and very specific nad need to be treated as such."

Landis said a law firm is not like an automobile factory where if all the workers left one day, the new employees would be immediately able to pick up the work by using the same machines and making the same cars.

"The attorneys' relationships with their clients are based on the clients having confidence in their knowledge, their brainpower, their judgment and a willingness to really understand the client's needs," he added.

Ally Law: Meet Marc Landis – Executive Member from New York

03/20/2020

Meet our Members: The Ally Law network is built upon the strength of member firms and the individual lawyers who practice within them. This series features the Ally Law leadership team, participants in the Young Leaders Development Program, and network lawyers from across the globe.

Media - Law360 publishes feature on partner Edward "Ed" Schauder's arrival to the firm; quotes Ed and Marc Landis, managing partner

11/14/2018 | Law360

Phillips Nizer's newest attorney, partner Ed Schauder, is the feature of a Law360 article published today. Ed, who practices in corporate and business law, as well as intellectual property, will chair our firm's Sports Law Practice.

Ed's quote:

That really excites me, that I'll be able to offer current clients, prospective clients comprehensive service, but also be helpful to others that are representing people now, and be able to leverage my skill set to offer more services to the firm's existing clients as well," he said in a phone interview. "I'm already hitting the ground running.

Marc Landis

quote:

Ed brings expertise, Ed brings a network of current and former and prospective clients that will benefit not only from the legal services that Ed provides, but that our firm can offer across the board...I'm really excited that Ed will be part of our team. In his first week here, we've already seen quickly that there will be great synergies with Ed's work and the rest of our work.

To read the Law360 article, click

here

. (Subscription required)

Super Lawyers® (2018)

09/13/2018

Seventeen Phillips Nizer attorneys were announced on September 13, 2018 as selected for inclusion on the 2018 New York Metro Super Lawyers and Rising Stars lists. Attorneys represented a cross-section of several practice areas and industry teams.

Media - Managing Partner Marc Landis is quoted by the New York Law Journal in the article, "What's Working to Increase Diversity Among Associates, Partners? Midsize Firms Share Their Secrets"

02/21/2018

The firm elevated two female attorneys to partner and named a female co-chair for its real estate practice. It also added Asian-American and African-American partners. And of five associates who joined in 2017, four are female, one is African-American and one is Asian-American...In assembling a diverse workforce, Landis said it's important to take a broad view. So look to hire and promote younger partners, lesbian and gay partners, and partners with different political views..."

"I don't want anyone to get the wrong idea. We happily bring in talented men and people who are not of color as well," he said. "I want to emphasize that while we have promoted many people into leadership roles and leadership opportunities, we haven't discarded our senior people."

Super Lawyers® (2017)

09/20/2017

It was announced on September 20, 2017, that sixteen Phillips Nizer attorneys were selected for inclusion on the 2017 Super Lawyers list. Alternative Dispute Resolution, Banking, Business Litigation, Entertainment, Intellectual Property, and Trusts & Estates practices were represented.

Super Lawyers® (2016)

10/21/2016

On September 21, 2016 it was announced by Super Lawyers® that twenty-three Phillips Nizer attorney were selected for inclusion on the 2016 Super Lawyers and 'Rising Stars' lists. This is the second consecutive year the firm has had twenty-three lawyers recognized.

Media - Law360 quotes Real Estate Practice chairman, Marc Landis, in an article highlighting the use of anonymous shell companies to purchase luxury assets, including residential real estate, in the United States using questionable funds.

02/01/2016

The article, "

Attorney-CLient Privilege At Stake In Real Estate Bill

," follows the Sunday, January 31, 2016 CBS Television "60 Minutes" report, "

Anonymous Inc.

," of hidden camera footage made by a British "watchdog" group highlighting loopholes in the US system and the ease for unscrupulous transactions to take place, often with the help of professional service providers.

Media - Cooperator.com quoted partner and Real Estate Practice chair, Marc Landis, in the article, "Feds Go After NYC's Foreign Luxury Condo Buyers: What the New Regulations Mean for Boards" on January 27, 2016.

01/27/2016

Cooperator.com is the online edition of the The Cooperator newspaper, a monthly publication providing news and articles related to topical issues related to management, finance and law, targeted to co-operatives and condominium owners, managers and board members in New York. The article highlights recent mandatory disclosure requirements imposed by FinCEN, a division of the US Treasury Department, of certain title insurance companies representing purchasers of luxury residential real estate in Manhattan.


Media - Managing Partner, Marc Landis, was quoted by Forbes magazine on January 14 regarding new US Treasury Department identification and disclosure requirements for certain title insurance companies of all cash buyers of luxury residential real estate in New York County, New York (Manhattan) and Miami-Dade County, Florida.

01/14/2016

The new regulations apply to properties in excess of $3 million in Manhattan and in excess of $1 million in Miami. This requirement by FinCEN, the Financial Crimes Enforcement Network, a unit of the Treasury Department, takes effect on March 1, 2016 and will remain in effect for 180 days, through August 27, 2016.

Ref: Legal Alert

Super Lawyers® (2015)

10/01/2014

Phillips Nizer was honored to announce that twenty-three of its attorneys were recognized as 2015 Super Lawyers® and Rising Stars. Attorneys who were recognized represented over a dozen practice areas. The annual Super Lawyers® lists are a result of confidential peer review and independent research.

​Super Lawyers® (2014)

10/01/2014

In an announcement on September 23, 2014, twenty-six Phillips Nizer attorneys were recognized on the Metro New York 2014 Super Lawyers® and Rising Stars lists. Twenty-two partners, senior counsel and counsel were selected as Super Lawyers. Four counsel and associates were selected as Rising Stars. The 2014 selections crossed all major practice groups. The annual Super Lawyers® lists are a result of confidential peer review and independent research.

Super Lawyers® (2013)

10/01/2013

Nineteen Phillips Nizer attorneys were selected by Super Lawyers® and recognized in the 2013 New York Super Lawyers - Metro Edition publication. As was the case in 2012, attorneys selected represented several practice areas. The Firm achieved a significant increase in the number of honorees, including one recognized as a "Rising Star". Each year, attorneys are nominated across various legal practices and vetted through a process of confidential peer review. Independent research by the publisher is an important component before one can be selected as a "Super Lawyer".

Super Lawyers® (2012)

09/21/2012

Phillips Nizer was honored with the selection of twelve of its attorneys for the 2012 New York Super Lawyers – Metro edition. The attorneys were recognized across seven practice areas — Alternative Dispute Resolution, Entertainment Law, Environmental Law, Estate Planning & Probate Law, Family Law, General Litigation, and Real Estate Law.

​Super Lawyers® (2011)

09/26/2011

Thirteen Phillips Nizer attorneys represented across seven distinct areas were recognized as 2011 "Super Lawyers". Super Lawyers®, a publication of Thomson Reuters, reviews nominations of attorneys across various legal practice areas. Those ultimately selected as "Super Lawyers" were vetted through a process involving peer review and independent research by the publisher.